Unlike the NFL or NBA where recently drafted or signed players typically play at the league's highest level within the same calendar year, the timing for when a baseball prospect can impact a big-league team can often require some patience.
Within the Cardinals' farm system, some talent in the lower minors might be a couple of years away from getting to the majors, but their progress is worth watching.
These are some of those players to keep tabs on:
Shortstop Jonathan Mejia, Dominican Sumer League: As a 17-year-old at the start of the 2022 season, Mejia was eight months younger than the average player in the Dominican Summer League. Mejia — a switch hitter from the Dominican Republic and the Cardinals' top international free agent signing in 2022 — batted .157 and slugged .235 in his first 16 games as a professional baseball player.
Following his slow start, he posted a .321 average, hit 10 doubles, five home runs, and a produced 1.031 OPS over the last 30 games of the short-season league. Mejia's ability to finish the DSL with 14 doubles, a .267 average, and an .897 OPS after his early struggles was noticed within the Cardinals front office.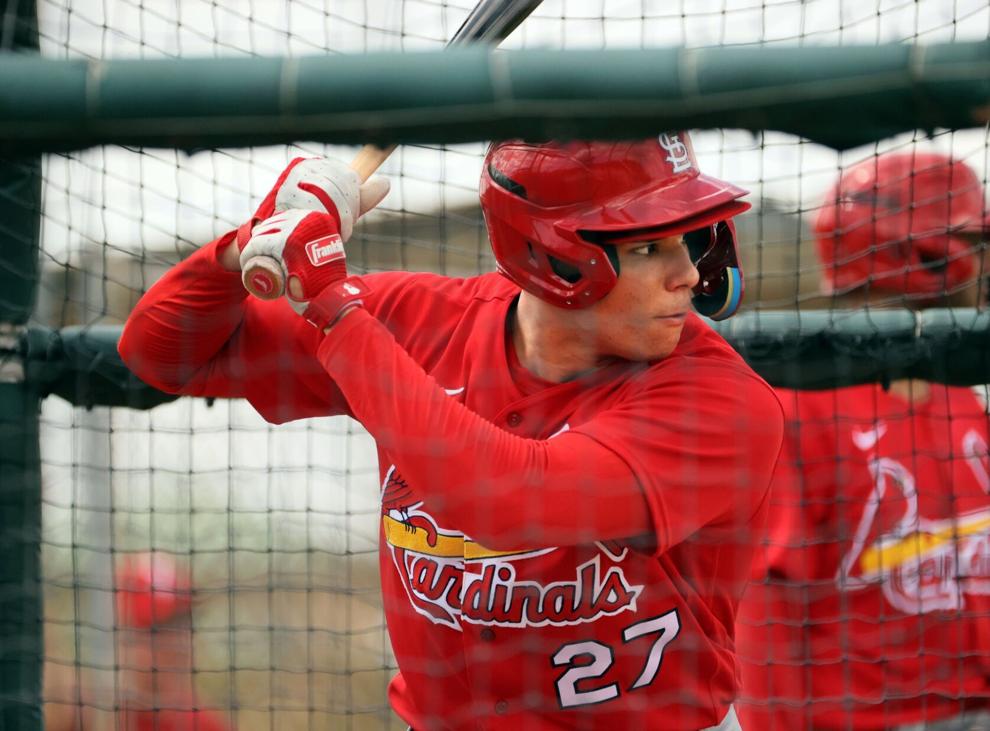 Outfielder Joshua Baez, Class Low-A Palm Beach/Florida Complex League: In a year where he got his first experience playing for a full-season affiliate, Baez dealt with a wrist injury that forced him to miss two months of the season. The 6-foot-4, 220-pound 19-year-old batted .279 with nine doubles, four home runs and an .897 OPS in 33 games upon his return to Palm Beach's lineup at the end of July.
Baez, who was nearly two years younger than the average player in the Florida State League, slashed .286/.418/.540 and 16 runs for Palm Beach. His power did come with a 36% strikeout rate in 122 total plate appearances.
Right-handed pitcher Alec Willis, Florida Complex League: Similar to what organization-mate Tink Hence went through in 2021, Willis had limited opportunities to pitch in games for one of the Cardinals' minor-league affiliates. Willis, 19, did get added to the FCL Cardinals' roster by the middle of September and pitched 11 1/3 innings in six appearances. He struck out 16 and allowed three hits and two walks.
Prior to 2022, Willis had completed just one inning of work with an affiliate after getting drafted by the Cardinals in the seventh round of the 2021 MLB draft.
Catcher Leonardo Bernal, Class Low-A Palm Beach: The 18-year-old switch-hitting catcher made his Class Low-A debut and finished the Florida State League with a .256/.316/.455 slash line in 45 games played. All of these were improvements from his 2021 season that was spent playing in the Dominican Summer League. Behind the plate, Bernal caught 573 1/3 innings and had a .984 fielding percentage in 681 total chances. He allowed eight past balls and thwarted 29 of 113 stolen base attempts against him.
Following a season with much movement in the majors, here's how the top Cardinals prospects did in 2022.
Right-handed pitcher Gerardo Salas, Dominican Summer League: With an increased workload compared to a season prior, Salas continued to flash solid command of his arsenal. In 47 1/3 innings, Salas had a 3.61 ERA and walked eight batters. The 19-year-old Monterrey, Mexico native had an .850 strike percentage and his 4.3% walk rate was the best among qualified Cardinals prospects in the DSL. When it came to facing left-handed hitters, Salas kept them to a .187 average and .551 OPS. Since making his pro debut in 2021, Salas has walked 11 batters in 66 innings. 
Outfielder Won-Bin Cho, Florida Complex League: Cho, 19, who last winter became the first amateur player from Asia signed by the Cardinals, began his first MiLB season in extended spring training before making his pro debut in June. He played in 26 complex league games where he was more than a year and a half younger than the league average. The left-handed hitting Cho slashed .211/.400/.316 and batted .467 in 15 at-bats against lefties. His 38.8% rate of hitting the ball to the opposite field was the highest among FCL Cardinals hitters that had a minimum of 100 plate appearances.
He provided an emphatic bat flip on his first home run as a pro and was added to Palm Beach's roster for the Florida State League Playoffs in September, but he did not appear in a game.
Right-handed pitcher Miguel Martinez, Dominican Summer League: When it came to striking out batters, Martinez did so at the highest rate among DSL Cardinals pitchers who threw a minimum of 20 innings. The 19-year-old sat down 45 hitters in 27 innings, giving him a 34.6% strikeout rate. Including his 2021 season, Martinez has held a 12.88 strikeouts per nine innings rate despite his 6.35 ERA over 51 innings in the Dominican Summer League.
Outfielder Luis Pino, Florida Complex League: Pino batted .294 in the first 10 games of the complex league but struggled the find consistency throughout its entirety. The 18-year-old ended the year with a .216 average and .682 OPS. He doubled five times and hit three homers in 31 games. His batted balls hit to the opposite field rate went from 26.1% a year ago to 37.7%, per FanGraphs. Like Cho, Pino was more than a year and a half younger than the FCL league average.
The Fall Star game is upcoming and the Cardinals will send four players to the game! Carter and Daniel highlight their accomplishments and qualifications. They also touch on the ramifications of recent roster moves and how that may impact the Cardinals Rule 5 and 40 Man Roster decisions in the near future.
Daniel Guerrero
@TheDanielGuerrero on Twitter