With farm systems across baseball, including that of the Cardinals, comprised of more than 200 players on teams across full-season and short season affiliates, sometimes strong performances can come from anywhere. That includes some minor-leaguers you might not expect.
These names might not pop up on Cardinals top prospect lists, but their individual performances in 2022 are worth noting:
Outfielder L.J. Jones, Class High-A Peoria: Jones, the last Cardinals draft pick in the abbreviated 2020 first-year player draft, led all Midwest League hitters in doubles with 33. Jones' 33 doubles were enough for the second most among all Cardinals minor-leaguers behind Masyn Winn's 36 and ahead of Jordan Walker and Mike Antico's 31. The Long Beach State product and former fifth-round pick finished as Peoria's leader in average (.261), home runs (13), and RBIs (64) — all of which bested his 2021 totals.
"He showed some maturity in a sense of laying off and handling breaking balls," Peoria manager Patrick Anderson said of the 23-year-old. "That was his biggest thing — the hard time with the slider and curveballs. He did a better job of doing that with his striker zone discipline."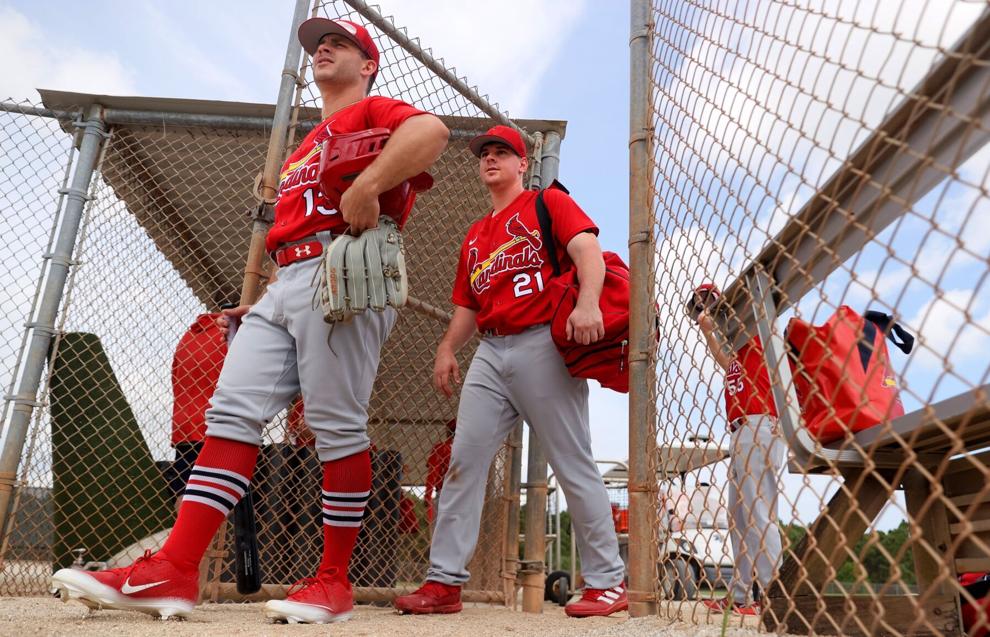 Outfielder Mike Antico, Class AA Springfield/High-A Peoria: In his first full season with the Cardinals farm system, Antico's speed and savviness on the base paths led to 67 stolen bases — the most by a Cardinals minor-leaguer since Chris Morris stole 111 in 2011. Antico was caught stealing seven times in 74 attempts and finished tied for the sixth-most in all of minor-league baseball. The next closest Cardinals minor-leaguer to Antico in stolen bases was Winn with 43.
While at the plate, Antico batted .175 and had a .546 OPS in his first 30 games, but turned it around before earning a promotion from Peoria to Springfield in July. Antico, a former eighth-round Cardinals draft pick in 2021, finished the year with a .245 average and 31 doubles.
Following a season with much movement in the majors, here's how the top Cardinals prospects did in 2022.
Outfielder Matt Koperniak, Class AAA Memphis/Class AA Springfield: Koperniak ended the 2021 season with a sample of Class AA pitching in the form of 33 games in Springfield after playing in just four games at the Class High-A level. And in his first full season with Springfield, the former Division III ballplayer showed consistency at the plate. The Trinity College (Connecticut) product batted .288 and posted an .801 OPS in 106 games as an S-Card.
The 24-year-old's offensive success included a 15-game hit streak during which he batted .443 and posted a 1.280 OPS from Aug. 5 to Aug. 24. The 15 consecutive games highlighted a stretch where the he produced a .375/.430/.618 slash line in 37 games from the start of July to the end of August.
"I think you got to build off of what your current state is," Koperniak said in August amid his 15-game hitting streak. "I've just been trying to keep a hot streak going and just trying to just keep the confidence going day to day because it's a tough sport and you can lose confidence really easy."
Right-handed pitcher Nick Trogrlic-Iverson, Class High-A Peoria: Working from a long-reliever role for much of the year with Peoria, Trogrlic-Iverson shook off a rocky nine-game stretch during which he allowed 13 runs in 13 innings and finished the season as one of the Chiefs most effective pitchers. Across 21 games from May 31 to Sept. 10, the Oakville, Ontario, Canada native sported a 2.04 ERA over 57 1/3 innings. Trogrlic-Iverson, 25, allowed 16 runs (13 earned) over that span and limited hitters to a .206 average.
Trogrlic-Iverson ended the season with a 3.33 ERA and completed three innings or more in 11 of his 31 relief appearances. He posted a 0.51 home runs per nine innings rate and improving his pitches for strikes percentage from .640 in 2021 to .670.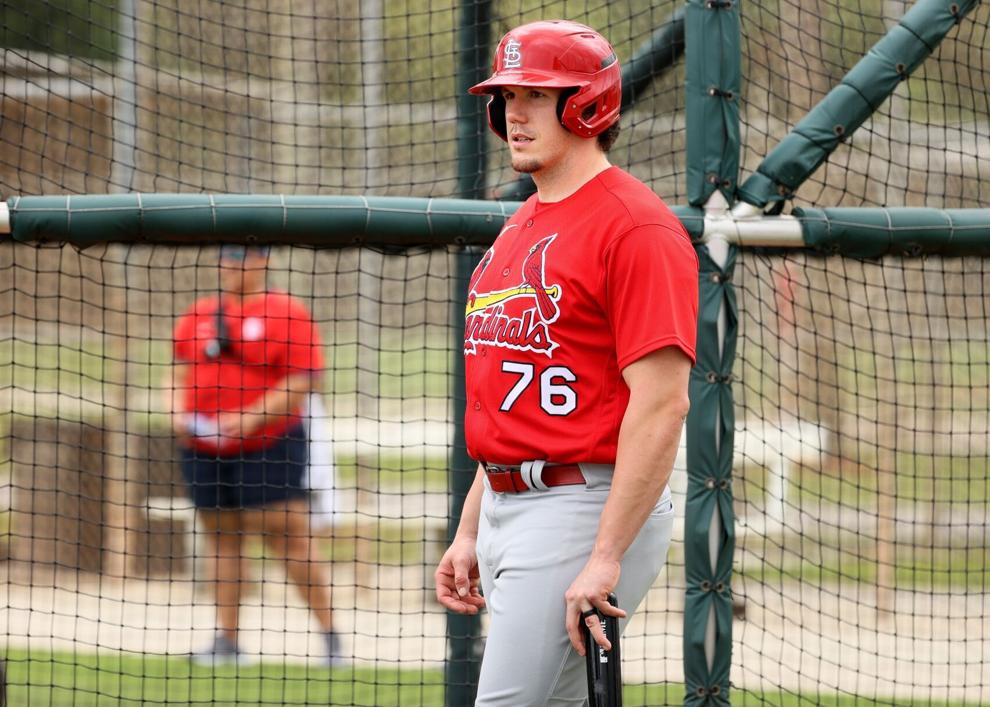 First baseman Chandler Redmond, Class AA: From helping a pair of the Cardinals' top prospects fix their swing mechanics to becoming just the second known person in professional baseball history to hit for the home run cycle, Redmond's 2022 season also included a career-high in homers (21) and RBIs (79). Redmond played first base in 49 games and was Springfield's designated hitter for 42 games. The 25-year-old's time in the field led to a career-high 387 1/3 innings at first base and a career-best .991 fielding percentage at the position.
"He's a student of the game. He wants to get better. He works really hard. Definitely, he's got power in his arsenal. That's his main tool," Springfield manager Jose Leger said of Redmond in May. "With him, he works extremely hard. He helps others. You see him in the cage working on the swing and, not only that, but also when we're out on the field, he wants to work on his defense.
"He wants to get better defensively as well. He knows it's going to be important for him in his career to be able to pick the ball at first base and make the play."
Right-handed pitcher Trent Baker, Class Low-A Palm Beach: Along with pitching prospects Tink Hence and Inohan Paniagua, Baker helped solidify Palm Beach's starting rotation for much of 2022. Baker, a ninth-round pick by the Cardinals in the 2021 MLB draft, ended the year with a 3.14 ERA in 123 1/3 innings while striking out 138 batters. A league-high nine wins earned the Florida State League pitching triple crown in the process. 
The consistency earned him the nod as Palm Beach's Game 1 starter in the Florida State League East Division Finals against St. Lucie. In that game, Baker allowed four runs over 6 2/3 innings.
Right-hand pitcher Tommy Parsons, Class AAA Memphis: Despite finishing the year with a 4.31 ERA, Parsons managed to lead all Cardinals minor-leaguers in wins with his 12-4 record. Parsons' 12 wins tied him for the International League lead and were sixth-most among all minor leaguers.
Parsons, 27, was utilized as both a start and long reliever during 2022 as he made starts in 17 of his 38 games while completing 135 2/3 innings. Parsons, who went undrafted after playing at Division III baseball for Adrian College in Michigan, went 6-0 out of the bullpen and posted a 4.26 ERA in 44 1/3 relief innings.
"It's nice to have that just to know I'm going out there and giving our team a chance to win and doing all that. But I mean, I started the year in the bullpen," Parsons said of his win total during a September interview in Memphis, Tennessee. "I've just been able to keep us in games and help the team win. I mean, that's a good thing, but I don't really pay attention to it too much."
First baseman Brady Whalen, Class AA Springfield/Class High-A Peoria/Class Low-A Palm Beach: In 101 games that included time across three levels of minor-league baseball, Whalen ended the year with a .291/.370/.459 slash line, nine home runs, and 25 doubles. Whalen began the season with Palm Beach where he produced a .288 average, an .855 OPS and connected on 10 of his 25 doubles. After 23 games with Peoria, the 24-year-old earned his first promotion to Springfield after former Cardinals first base prospect Malcom Nunez get dealt to Pittsburgh durnig the Aug. 2 trade deadline.
Whalen ended the year with Springfield where he hit 11 doubles and had a .306/.355/.480 slash line in 29 games. Whalen set career bests in average, on-base percentage, slugging percentage, and OPS this past season.
Second baseman Nick Dunn, Class AA Springfield: The former fifth-round pick spent his fourth season of minor-league baseball entirely with Springfield where he played 103 games at second base and posted the highest walk rate (13.3%) and lowest strikeout rate (8.9%) among Cardinals minor leaguers who had a minimum of 450 plate appearances in 2022. Across 112 total games played, Dunn had career-highs for average (.274), OPS (.770), and doubles (21). Prior to 2022, Dunn had not batted above .259 or posted an OPS above .700.
Right-handed pitcher Gianluca Dalatri, Class Low-A Palm Beach/Class High-A Peoria/Class AA Springfield: Before he was promoted to Class AA, Dalatri pitched 17 consecutive scoreless innings and struck out 29 batters across a 14 game stretch that began while he was in Palm Beach and continued in his promotion to Peoria. Although the 24-year-old had an 8.03 ERA in his last 12 1/3 innings at the Class AA level, he finished 2022 with a 1.19 WHIP and struck out 67 batters in 48 2/3 total innings.
Dalatri, who signed a minor-league contract in 2020 after going undrafted, had a 32.5% strikeout rate — the fourth highest among Cardinals minor-league pitcher who threw a minimum of 40 innings. 
Daniel Guerrero
@TheDanielGuerrero on Twitter