Last weekend, the San Francisco Giants retired the number of first baseman Will Clark, prompting us to take a look back at one of Clark's most notorious moments involving a brawl at Busch Stadum in 1988.
Dutch Rennert, the second-base umpire that day, was considered among the best ball-and-strike arbiters. But he missed something in the brawl.
Ozzie Smith, rushing to the defense of Jose Oquendo, threw a wild, roundhouse punch which missed its mark, and a few slaps that didn't. But he wasn't ejected, as Oquendo and Will Clark were, because Rennert said he didn't see it.
It took 12 years, but Oquendo and Clark eventually buried the hatchet. When Clark joined the Cardinals late in the 2000 season from Baltimore, he and Oquendo, who had become a Cardinals coach, reminisced about the 1988 scuffle.
We welcome readers to STL Pinch Hits with an exclusive look back at some of the top games from my career on the beat. Here's my coverage from that day.
July 24, 1988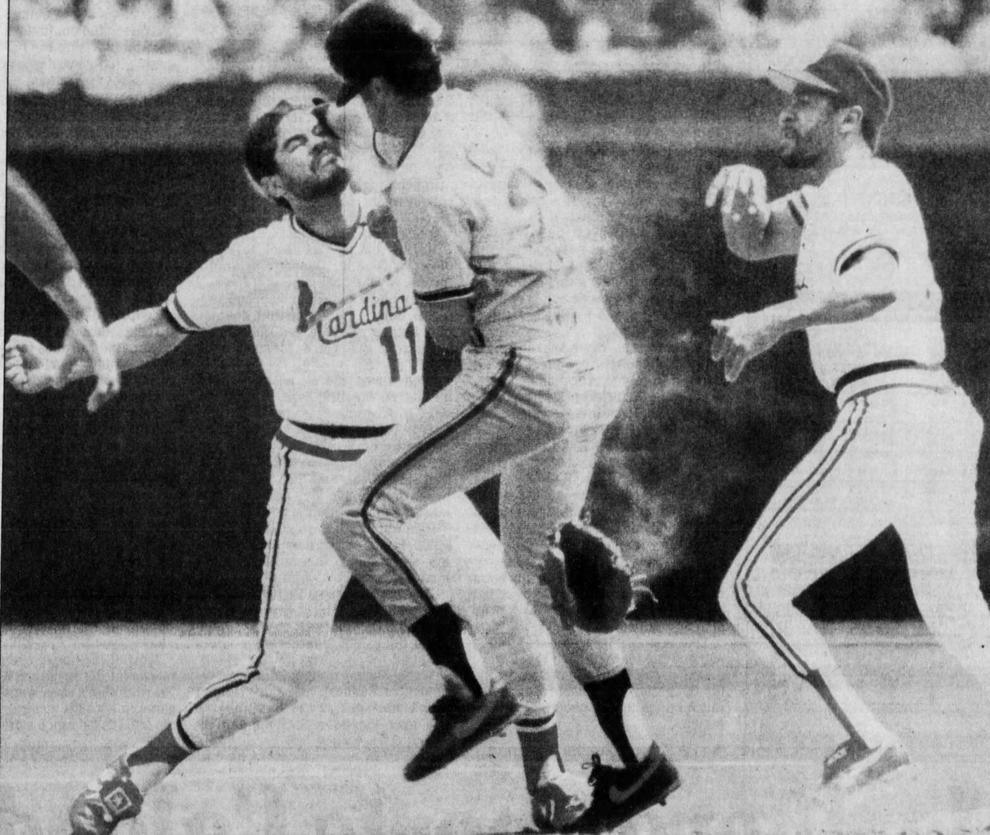 San Francisco's Rick Reuschel was on his way to his 25th career shutout when suddenly, a hockey game broke out at Busch Stadium.
Reuschel eventually would get a 5-0 shutout over the Cardinals, but not before there were two bench-clearing incidents in the eighth inning, including one honest-to-goodness baseball fight.
The Cardinals had two lightweights in the ring — Jose Oquendo and Ozzie Smith — against San Francisco heavyweight Will Clark. Just when the Giants-Cardinals rivalry, spawned by a bench-clearer here two Julys ago, is kicking up again, the season series is over.
"I don't think we'll be seeing them in October," Cardinals manager Whitey Herzog said, referring to the teams' respective standings in the National League.
"A break for the umpires," crew member Dutch Rennert said.
The brawl started in the eighth inning when Candy Maldonado grounded to Smith with one out. Clark, running from first, made contact with second baseman Oquendo by sliding into him about six to eight feet past the bag after the forceout.
As Oquendo and Smith loomed over Clark, the following scenario took place:
Oquendo kicked Clark and then cuffed Clark's helmet with his hand. Clark, his attention having been obtained, jumped to his feet and grabbed Oquendo.
Smith, coming to the rescue, landed a punch from behind and then missed a roundhouse punch. Smith got in two more blows as Oquendo and Clark continued grappling, with Clark gaining the upper hand.
Maldonado, flying in from the right side, apparently gave Smith a shot that split Smith's lip. Tom Pagnozzi, who came from the Cardinals' bullpen, wrestled Maldonado to the ground.
Meantime, two more Cardinals, third baseman Terry Pendleton and reliever Scott Terry, had joined the fray to try to serve as peacemakers and the Giants' Mike Aldrete had taken Smith to the ground.
Crew chief Frank Pulli finally got hold of Smith, who was having subsequent jawing sessions with the Giants' Bob Brenly, an old favorite of his, and Chris Speier.
Terry was to be involved again two pitches later. His first pitch to Aldrete was high and outside and the second pitch was high and very inside. Home-plate umpire Randy Marsh ejected Terry because he thought it was an obvious brushback pitch and the Giants bench emptied again. The Cardinals bench quickly followed suit.
This time, Brenly and Smith were engaged in verbal abuse near the third-base bag but there were no punches thrown. The rest of the game continued without incident, although there were police on the field.
Oquendo said, "I was just trying to get out of the way and I didn't think that was a right slide. (Clark) slid late. I was ticked off."
Clark had slid hard into second two nights before on a potential double-play ball and Herzog had questioned second-base umpire Marsh's call then.
"Both times, there's no dirt where he slid on the first-base side of the bag," Herzog said.
"The rule states that you can slide on the first-base side of the bag and your momentum can carry you on that side of the bag. But you cannot break up a double play and your first mark be on the other side of the bag. They didn't call it, so (Clark) did it again. I told them if they had called it the other night, this stuff wouldn't have happened."
Of Oquendo's and Smith's retaliations, Herzog said, "Any shortstop and second baseman would do the same thing. You can get your knees hurt bad."
When Herzog's complaint was repeated to Rennert, he said, "(Clark) didn't slide out of the baseline. He slid over the base. Straight and directly. A hard slide. Baseball can be a hard game. He's got a gripe, but . . . that's all you've got to do — slide directly over the bag."
Pagnozzi said Clark should have expected something to happen to him.
"Jose was doing what he's got to do," Pagnozzi said. "If Will Clark continues to slide like that, somebody will take care of him. It's just a matter of time. Nobody slides that far through the bag. He's going to get somebody hurt if he doesn't get hurt before. Somebody might drop down (on a throw) and smoke his noggin."
As for others who might have been occupied during the main event, pitcher Joe Magrane said he was talking to his stockbroker and Dan Quisenberry said he was playing Henry Kissinger. He said he confronted an opponent but declined battle "because he looked like Mike Tyson."
Rick Hummel
@cmshhummel on Twitter