Hall of Fame writer Rick Hummel welcomes readers to STL Pinch Hits with an exclusive look back at some of the top games from his career on the beat.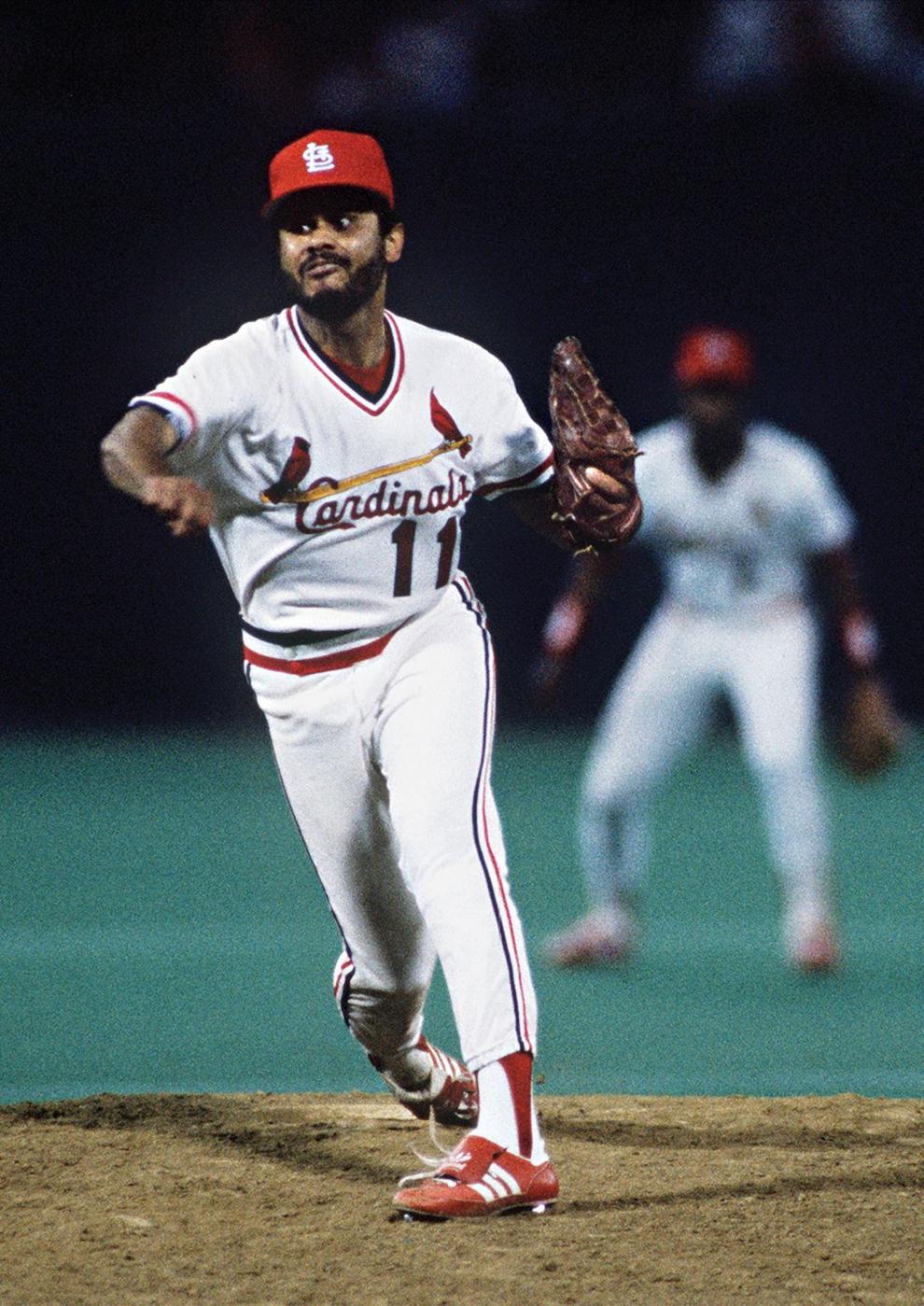 May 14, 1988
In one of the most improbable baseball games ever played at Busch Stadium, consider this most improbable box-score entry: Losing pitcher — Oquendo.
Infielder and utilityman Jose Oquendo pitched three scoreless innings of relief as the eighth Cardinals pitcher, but Atlanta's Ken Griffey finally beat him and the Cardinals 7-5 with a two-run double in the 19th inning.
Griffey's double came with two outs after walks to Dion James and Dale Murphy and after Cardinals manager Whitey Herzog had repositioned right fielder Tom Brunansky and left fielder Jose DeLeon — yes, Jose DeLeon — for the 11th time.
DeLeon, a pitcher, went to left field in the 16th, when Oquendo moved from first base to the mound, because the Cardinals were out of reserves.
The Cardinals used 23 players, all except Sunday's starting pitcher, Larry McWilliams, in the 5-hour 40-minute game. DeLeon played outfield for four innings and pitcher John Tudor batted for him in the 19th.
Oquendo, who allowed six walks and four hits, could have been a winning pitcher in the 18th. The Cardinals had the bases loaded with one out, but Duane Walker's broken-bat liner doubled Brunansky off third base. The Cardinals left 21 men on base.
Oquendo's loss was the first decision for a non-registered pitcher in the major leagues since 1968, when that noted New York Yankees reliever, Rocco Colavito, beat the Detroit Tigers with 2 2/3 innings of relief.
Oquendo had pitched one inning last year in Philadelphia, giving up three runs.
"I was trying to get back for last year," Oquendo said. "They hit the ball pretty hard, but this is a big park. It could have been over anywhere else.
"I'm glad I got the chance to pitch. I'm glad nobody got hurt. It was fun for everyone, and that's all that matters. I'd like to have won, but there's nothing we can do."
Herzog sent Oquendo to the mound when Randy O'Neal hurt his arm in the 15th, his only inning. Herzog said Tom Lawless, who was in the game at third base, would have pitched the 20th inning.
Catcher Steve Lake said that when the two went over their signals before the start of the 16th inning, Oquendo said he had three pitches.
"I started chuckling," Lake said. "Then I see that he's dead serious.
"He threw a lot of sliders and a lot of split-fingers. I never knew where his fastball was going. I didn't know if he was going to drop down (sidearm) or throw overhand."
Home-plate umpire Bob Davidson, who must have called 700 pitches, said of the evening, "It got to be kind of comical.
"Whitey said he was bringing in Oquendo to pitch and he said, 'Can I forfeit?' I said, 'Whitey, you can do what you want to do.'
Herzog moved Brunansky and DeLeon a total of 11 times in four innings, and DeLeon actually caught two fly balls, both in right field. Griffey served his game-winning double to left, where DeLeon had no chance.
The Braves' Dale Murphy said of Oquendo, "The guy had good stuff. He threw me some great forkballs. But if he had beaten us, I wouldn't have known what to say."
Winning pitcher Rick Mahler, who pitched eight scoreless innings, said, "Give the guy a lot of credit. He showed a lot of guts. But I said to myself, 'I'm not going to lose to this guy.' "
Commish looks back
One of the great sidelights of this game was that it went well after midnight Saturday — or after several of the downtown restaurants and watering holes had closed for the night.
There were no 3 a.m. closings in the city, and there was no "last call" yet on beer sales at the ballpark. So customers began streaming into Busch after midnight to watch "Secret Weapon" Oquendo pitch . . . or maybe it was to quaff a cold one or two.
The next afternoon, Whitey Herzog asked Oquendo if he could play center field since Willie McGee was ailing. Oquendo was too much of a team man to say no, even though he barely could raise his arm above his waist, and he threw virtually sidearm from center field.
Rick Hummel
@cmshhummel on Twitter