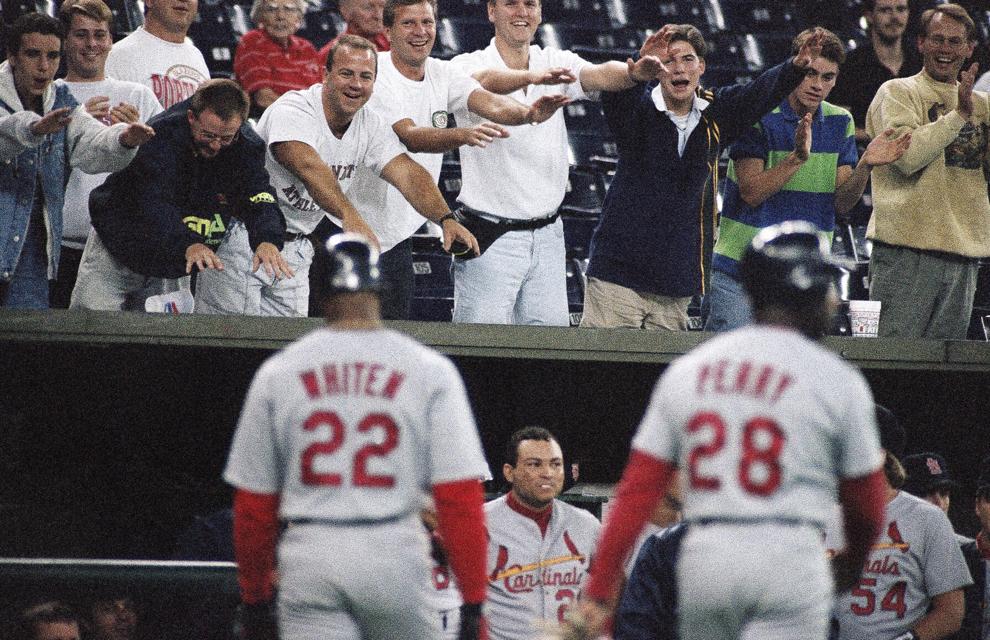 Having struggled through a 3 hour 41 minute marathon in the first game of the twi-nighter, I wasn't prepared for Mark Whiten's heroics in the nightcap on Sept. 7, 1993.
Until he came to bat in the sixth, he had homered only once. But he homered in the sixth, eighth and ninth — Rob Dibble laid in a meatball pitch for him in the ninth — and suddenly Whiten was in the history books. But he really didn't seem to grasp the moment.
A couple days later in San Francisco, manager Joe Torre brought Whiten into his office to meet Hall of Famer Willie Mays, who also had hit four homers in a game. Upon leaving Torre's office to return to the clubhouse, Whiten was asked how the meeting went. "He's just another man," said Whiten.
We welcome readers to STL Pinch Hits with an exclusive look back at some of the top games from my career on the beat. Here's my coverage from that day.
Sept. 7, 1993
CINCINNATI — In an abysmal performance, the Cardinals and Cincinnati Reds set a major-league record for most pitchers used in a nine-inning game when they combined for 15 in a 14-13 Cincinnati victory in the opener of a twi-night doubleheader.
But that was nothing compared to what Cardinals outfielder Mark Whiten had in store in the nightcap.
Whiten did something no Cardinal had done — not Stan Musial, Joe Medwick or Johnny Mize — when he became the 12th player in history to hit four home runs in a game. He also became only the second player in history to drive in 12 runs in a game — tying Jim Bottomley of the 1924 Cardinals — as the Cards blasted the Reds 15-2.
A first-inning grand slam by Whiten, who hadn't homered since Aug. 11, helped propel Bob Tewksbury to his 16th win. That homer came off rookie Larry Luebbers. Whiten also popped three-run homers off rookie Mike Anderson in the sixth and seventh innings. In the ninth, he tagged Rob Dibble with his fourth homer, a 441-foot drive over the center-field wall.
"I was impressed with that one," Whiten said.
Sixteen of Whiten's 22 homers — and all four in this game — came while batting lefthanded, which manager Joe Torre said is Whiten's "weak side."
"This is the top of the list for me," Torre said. "This is the No. 1 achievement I've ever witnessed."
Whiten, 26, didn't allow himself to get too excited about the achievement until after the game. His teammates had spread a red carpet of equipment bags, and when Whiten came up the steps to the clubhouse, they formed a two-sided line and raised their bats in salute, chanting, "Hard Hittin' Mark Whiten.' "
Upon finally arriving at his locker, Whiten found a couple of bottles of champagne. He carried a bag with the four balls he hit over the wall. "None of them carried into the seats," he said. "The ground crew guys got them for me."
Ironically, Whiten had been at the focal point of the first game when Reggie Sanders' liner in the ninth hooked, then sank and got away from Whiten as the winning run scored.
"He was buried in his locker after that first game," Torre said. "Not that the ball got away from him but the fact that we lost. He takes losses as hard as anybody on this ballclub."
Just before Whiten's third home run, Bernard Gilkey had dashed home from second on an infield hit by Gerald Perry. Had Gilkey stayed at third, Whiten could have had 13 RBIs. But Whiten said, "How do you know I would have hit a home run if he had stayed at third?"
Gilkey said he knew Whiten was "definitely into the zone."
"I was talking to him in the outfield after he hit his third one and it was almost like he didn't see me. He looked straight through me."
Whiten agreed that he had found that certain "zone," although he said, "You don't really know you're in a zone until after the game. I think my teammates knew it before I did. But it didn't matter where the ball was."
On the last at-bat, Dibble ran the count to 2-0 and Whiten said, "I felt he was going to try to pitch around me."
But Dibble came after Whiten with a fastball, and Whiten drilled it. All the home runs came on fastballs, which makes one wonder why teams don't throw Whiten more breaking balls.
"I wasn't going to walk him. I've walked enough people lately," Dibble said. "I'm happy for Mark Whiten. He's a part of history. And so am I."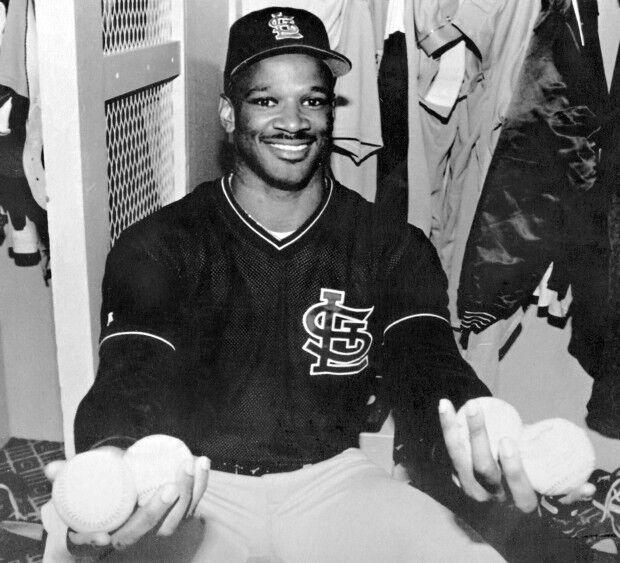 Fans saluted Whiten on his last trip around the bases, bowing over the Cardinals' dugout. He was given a curtain call, although only about 2,000 fans remained at midnight.
After Whiten cracked the champagne, he was going back to the hotel to watch SportsCenter on ESPN. "Maybe it will put me to sleep, but I doubt it," he said.
"I don't have words to explain this. It's amazing. Every time I hit it, I was kind of amazed."
One more record that Whiten tied was RBIs for a doubleheader at 13. In an 0-for-four first game, Whiten drove in one run. The other 12 enabled him to tie St. Louisan Nate Colbert of the 1972 San Diego Padres.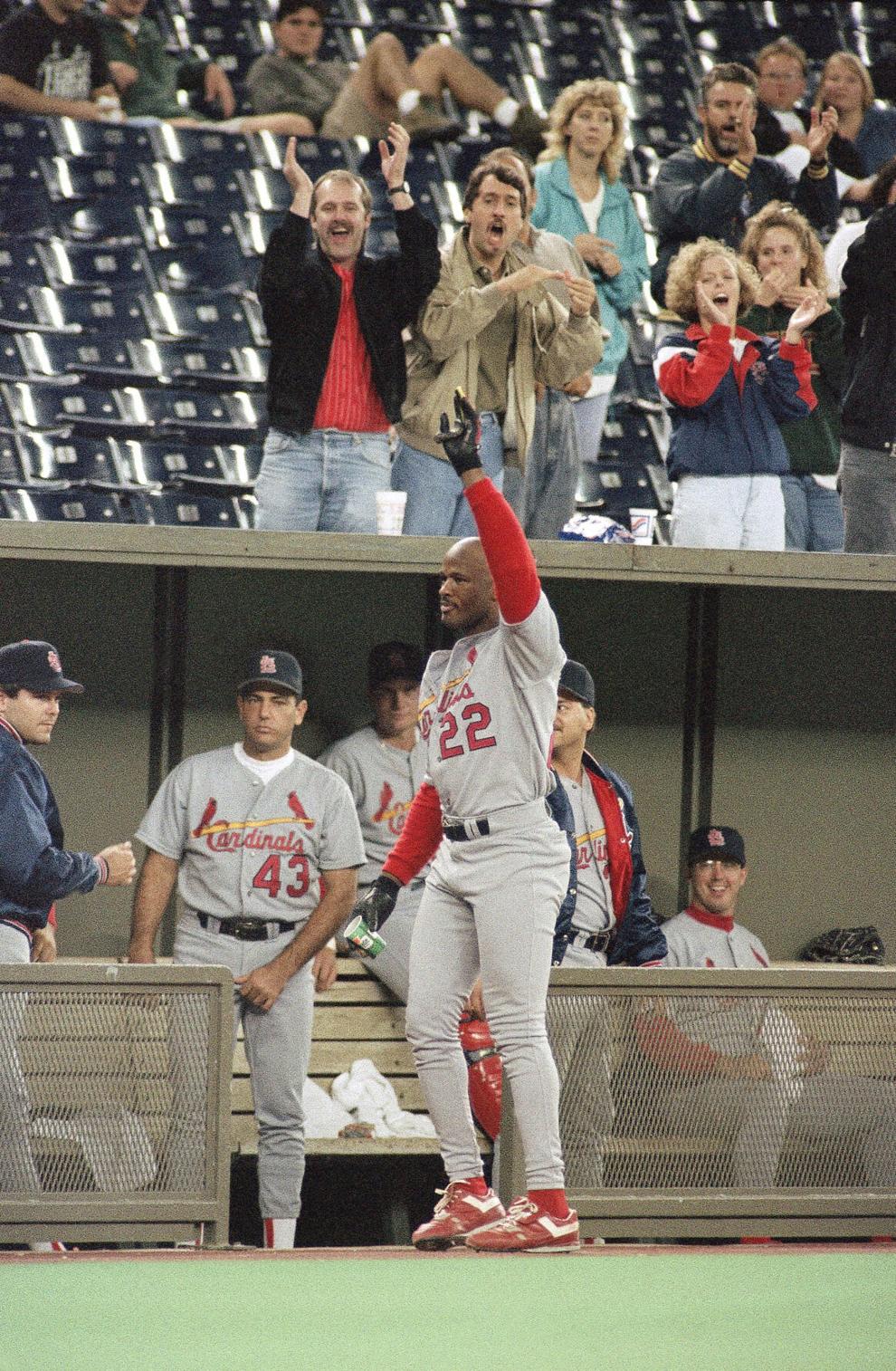 Rick Hummel
@cmshhummel on Twitter