Jordan Walker has sizzled in Springfield and done damage in the desert during the Arizona Fall League.
His rapid rise up the prospect-ranking lists occurred with the same tantalizing speed he barrels baseballs and runs the bases.
Position switch? No big deal. Walker departed his familiar third-base dirt for the outfield and started producing wow-worthy throws from the grass.
Other teams have tried to pry the 2020 first-round draft pick away, the latest example coming at this past trade deadline, but the Cardinals have said no time and time again.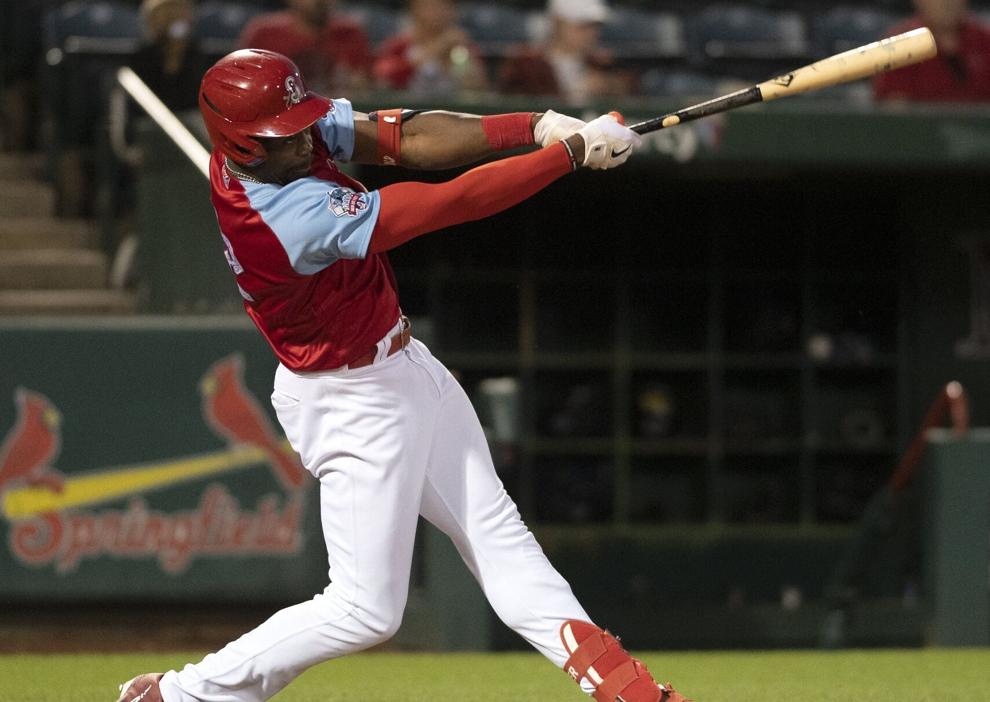 All signs point toward this upcoming season being the one that starts the major-league payoff.
"We have a lot of talent coming," Cardinals president of baseball operations John Mozeliak said earlier this offseason, mentioning Walker specifically.
His rise is a thrilling topic.
No need to try to tamp it down.
For a team that wants its pipeline to produce star power, the emergence of a player with Walker's potential is a special kind of thrill.
Two realities need to be remembered, though, during an offseason that will continue to include plenty of understandable Walker hype.
First up, Walker is not too young.
Oh, he's young. He does not turn 21 until May. As a reminder, Nolan Gorman, who had an up-and-down rookie introduction this year, was called up in May 2022, at age 22. But let's not forget, as we sometimes do, that there is a league-wide context to consider beyond St. Louis. Early graduations for tip-top prospects are becoming more common.
American League rookie of the year Julio Rodriguez, 21, made the Mariners' opening-day roster after a strong spring-training performance. The center fielder earned All-Star and Silver Slugger honors while producing a .284 batting average, a .345 on-base percentage and a .509 slugging percentage. He hit 28 home runs and 25 doubles — and stole 25 bases. He skipped Class AAA ball entirely after playing only 46 games at Class AA.
Royals infielder Bobby Witt Jr. made the opening-day roster at 21, then produced 20 homers and 30 steals. His rookie season included more games (150) than he totaled in Class AA (61) and Class AAA (62) combined.
National League rookie of the year Michael Harris, 21, did not break camp with the Braves, but he was promoted in late May and never left. He averaged .297 with a .339 OPS and a .514 slugging percentage, slugging 19 homers and 27 doubles in 414 at-bats. He never played in Class AAA and spent only 43 games at Class AA before the Braves called him up.
Tigers center fielder Riley Greene, who just turned 22, was one of Detroit's few bright spots last season. Padres-turned-Nationals shortstop CJ Abrams, who just turned 22, too, helped swing the Juan Soto deal, and is expected to be the Nationals starter moving forward. And don't forget Rays shortstop Wander Franco, who debuted in June 2021. He's 21 until March. He has produced a solid two-season OPS of .776 despite the wrist injury that cut into his playing time in 2022.
This game gets younger every season. Talent is getting better earlier, and teams are growing more comfortable letting certain aspects of development happen on the fly, especially if some components, such as a player's bat, are league-ready right now. It's also important to remember the new Collective Bargaining Agreement incentivizes teams with major-league ready talent to refrain from holding top prospects back in the minors if they believe they are ready. Teams now can earn extra draft picks if highly rated rookies perform well enough upon promotion to win or rank highly in certain awards during their pre-arbitration seasons.
Early arrival does not guarantee instant success.
Witt broke through for the Royals playing third base before shifting to his natural shortstop spot and bounced around in the order before locking in at second. Rodriguez hit between sixth and eighth in the first month of the season before climbing to leadoff. Harris is the most impressive example of how a strong team can get the most out of an impressive rookie without putting too much pressure on his shoulders. His NL rookie-of-the-year win was carved out from the bottom four spots in the order, primarily in the ninth slot.
Teams that want to aggressively promote exciting talent while also contending — teams such as the Braves, and the Cardinals — can do themselves favors by not asking even exceptional young players such as Harris to do too much immediately upon arrival.
Gorman's ups and downs with the Cardinals last season showed how manager Oli Marmol can and will work to move a still-growing talent in and out of the spotlight as maturation continues.
That bodes well for how Marmol will manage Walker when his time comes, but the best thing for Walker might not be a designated hitter role or platoon splits.
A better answer would be the Cardinals following through on their desire to add some legitimate heft to the lineup, so Walker doesn't wind up being called upon for heavy lifting the day he shows up in St. Louis.
The Cardinals are hunting for lineup protection, they insist. It's critical. Here's why. Their leadoff OPS of .659 last season ranked 13th among National League clubs. Albert Pujols, who became the club's third-best hitter this year and provided middle-order substance on a bargain salary, has retired. The real estate around Goldschmidt and Arenado is shaky. Too shaky.
Walker has earned the opportunity to secure a spot on Marmol's team during spring training. That goal, not providing Goldschmidt and Arenado protection upon promotion, should be his only immediate challenge. If the Cardinals later wind up having to make the hard call of deciding who to bump from the meat of the order to move up a hot-hitting Walker, that's what you call a great problem to have.
Great lineups get used to solving them.
Ben Frederickson
@Ben_Fred on Twitter