The Cardinals' farm system traditionally has been one of the most productive in the major leagues although some of that production has come with other big-league teams. Still, the Cardinals have been to 20 postseasons in the 51 years I have been at the Post-Dispatch, most of those playoff teams fueled by home-grown talent.
The list of players either drafted or signed as amateur free agents in that time includes a couple of imminent National Baseball Hall of Famers and several Cardinals Hall of Famers. Here is one compilation of the top 51 Cardinals signed-and-developed prospects, which is so deep that neither of the most recent Cardinals pitchers to throw a no-hitter, Jose Jimenez and Bud Smith, is on it.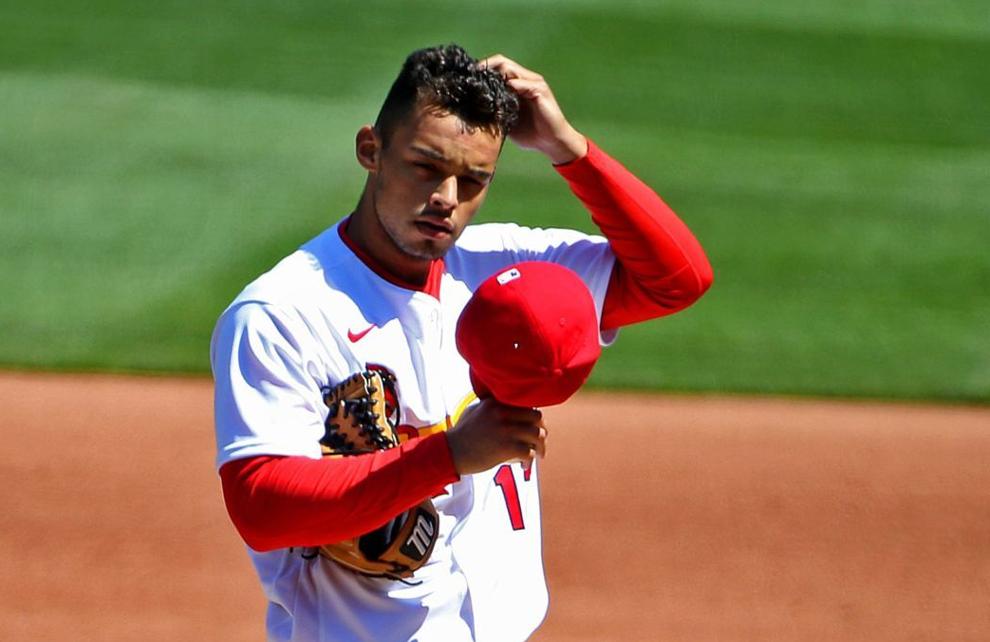 A couple of years ago, he threw harder than any other major leaguer and he was on a fast track to greatness as a closer. Then the elbow problems. Now he wants to come back as a starter. He still is only 25. 
---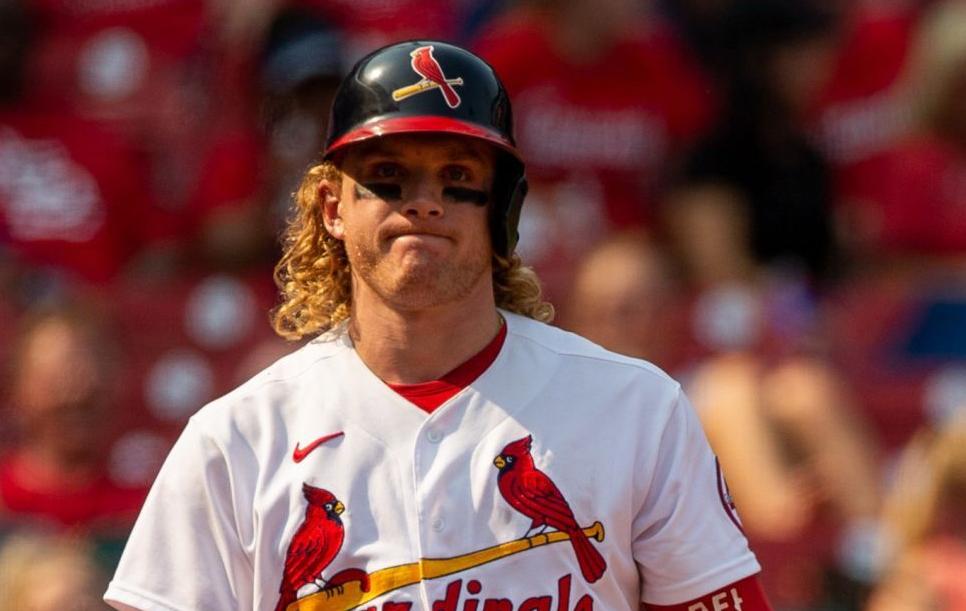 After waiting for Bader to mature as a player, the Cardinals were rewarded with a Gold Glove season in 2021, besides a 16-homer, 50 RBI output which would have been greater if he hadn't missed more than 50 games via injury.
---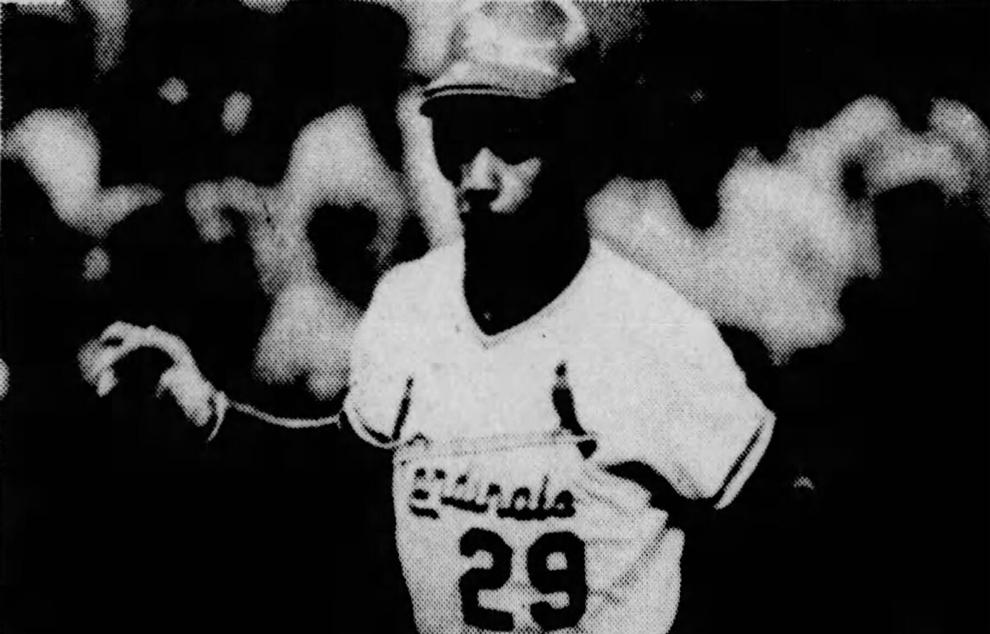 Mumphrey hit .289 for his 15-season career and .276 here in six seasons. He had stays with Padres, Yankees, Astros and Cubs. Stole 52 bases in 1980 for San Diego. Had 10 triples and 22 steals for Cardinals in 1977.
---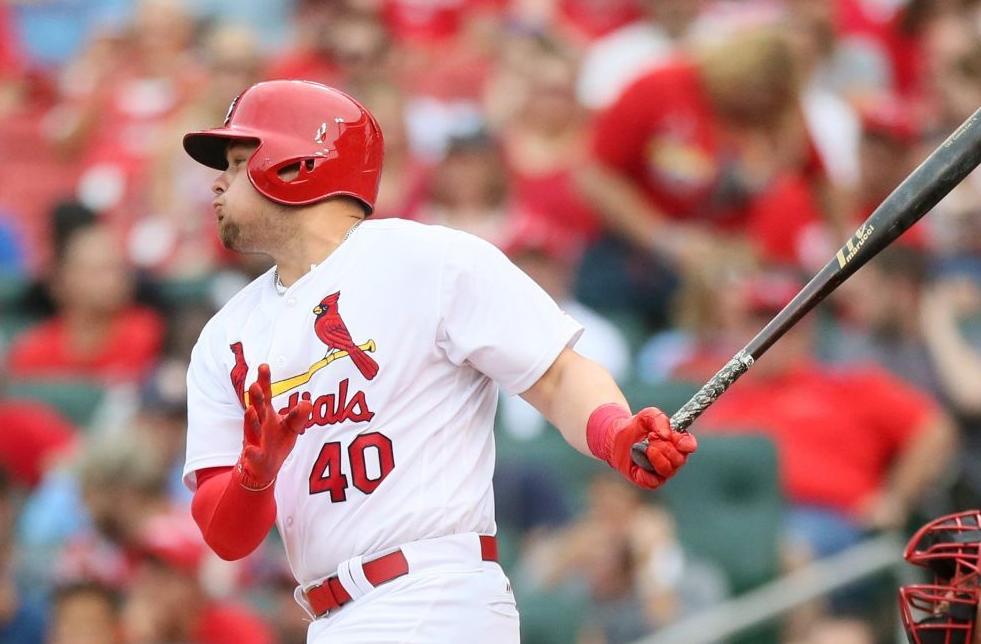 Now that the universal DH is here, where is the former Lafayette High star when you need him? Once Voit got his chance with the Yankees, he became an immediate hit and he won the AL home run title in 2020. He was dealt to San Diego this spring.
---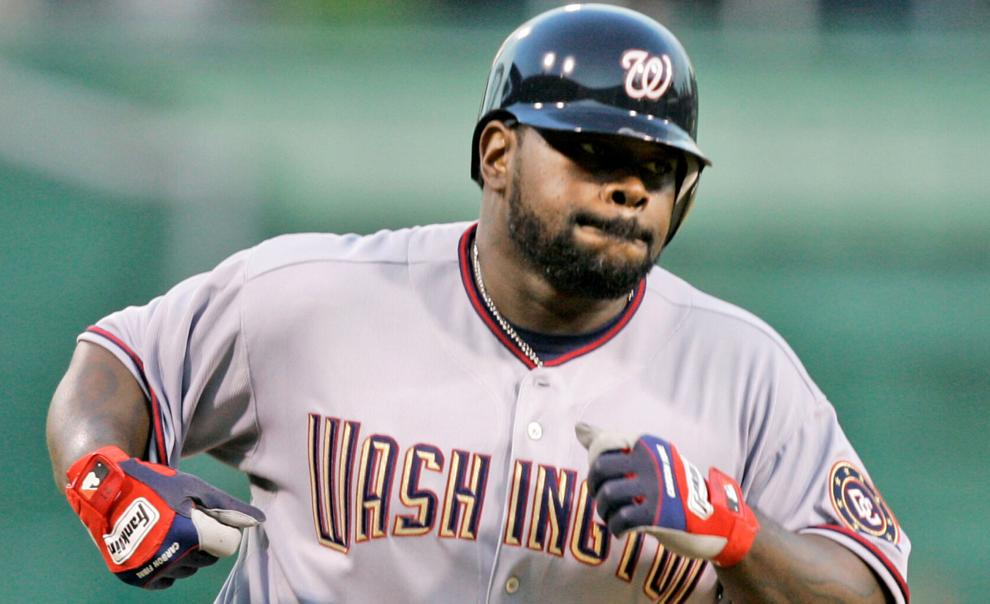 If Mark McGwire hadn't been obtained in 1997, Young might have been the Cardinals' 1B for a while. A first rounder in 1991, he played two years here but 13 overall and had five years of 18 or more homers with Reds and Tigers.
---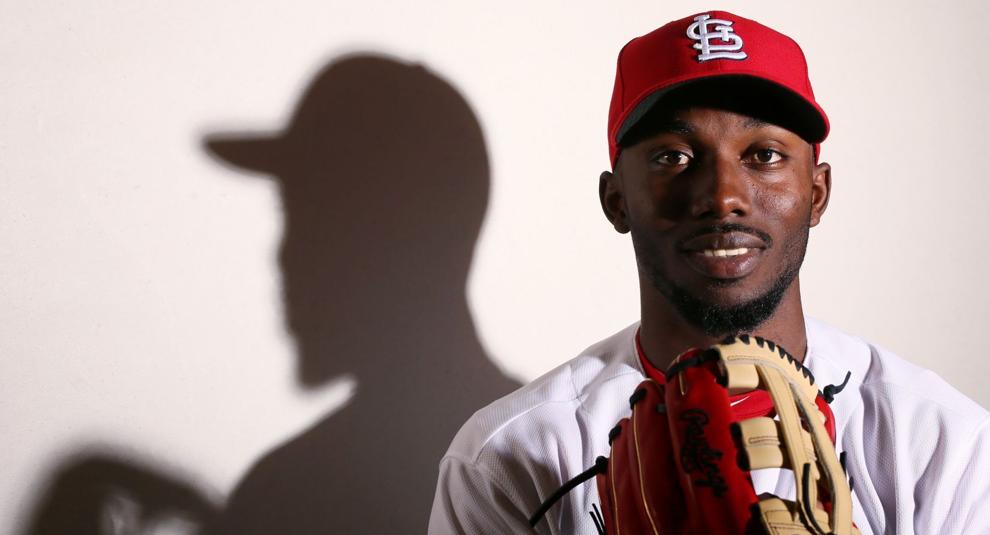 After getting only four starts for Cardinals in 2019, he was shuffled off to Tampa Bay and you know the rest. In 29 postseason games, he has hit 11 homers. He was MVP in ALCS in 2020 and Al Rookie of the Year in 2021.
---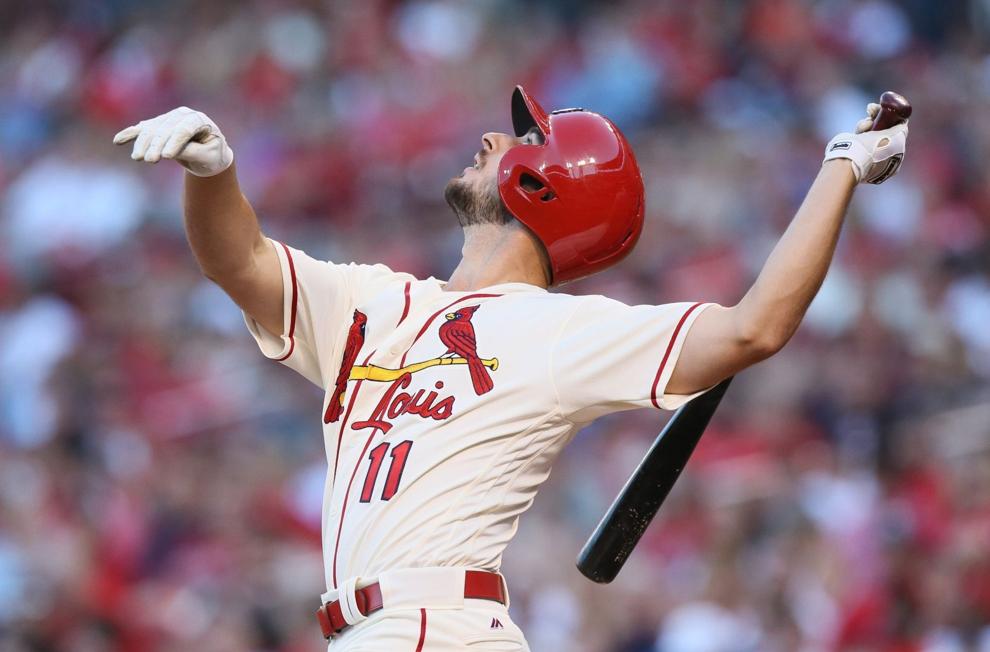 A couple of down years lately, but DeJong has had 25 or more homers twice with the Cardinals besides 19 another time and became a solid defender at shortstop. Homered in first at-bat in 2017.
---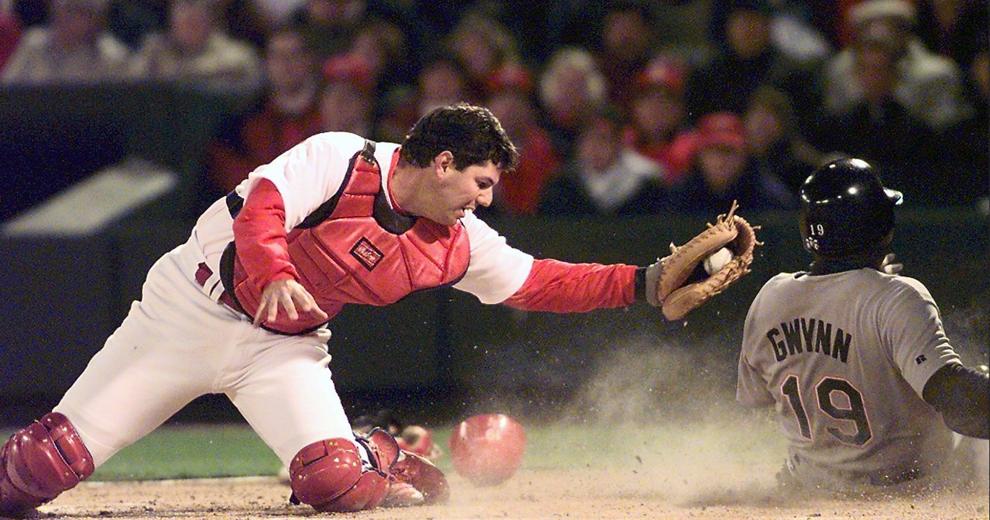 Few play their whole careers with one team anymore, but Pagnozzi spent all 12 of his seasons with Cardinals, winning three Gold Gloves. He played in two postseasons for club, nine years apart in 1987 and 1996.
---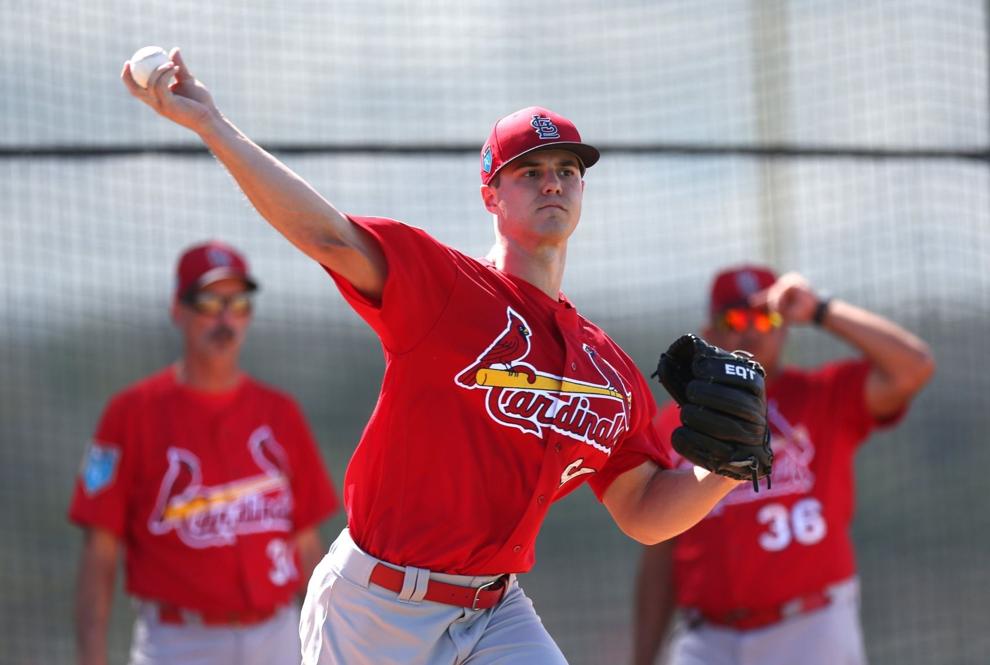 The best yet may be ahead for the 2016 first-rounder after his recovery from elbow surgery. He was the leading winner at 16-7 on the 2019 division championship team.
---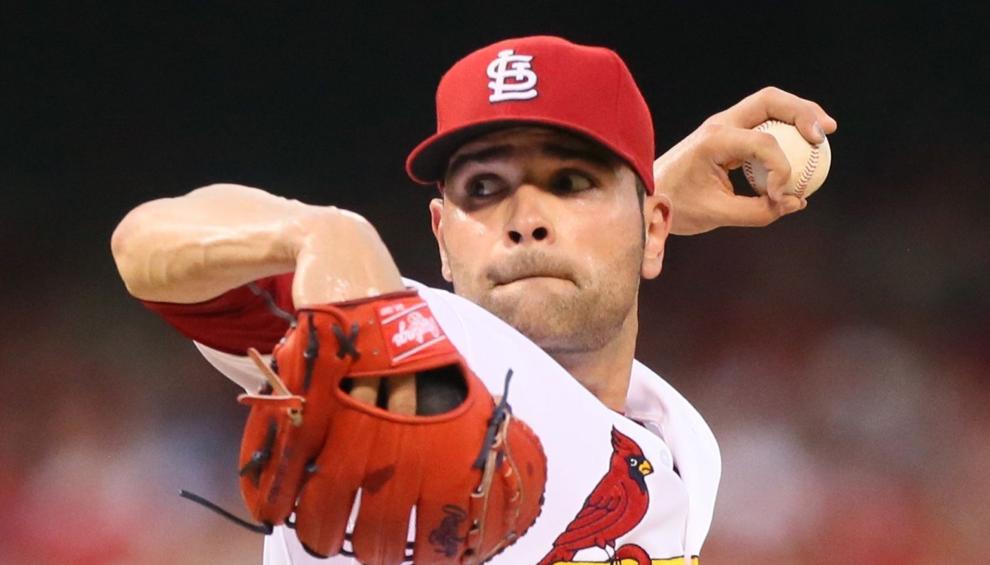 Garcia ran the gamut of surgeries—elbow, shoulder, thoracic outlet syndrome—but when healthy, he was 62-45 here in eight seasons. Fanned 13 in one-hit shutout against Brewers in 2016.
---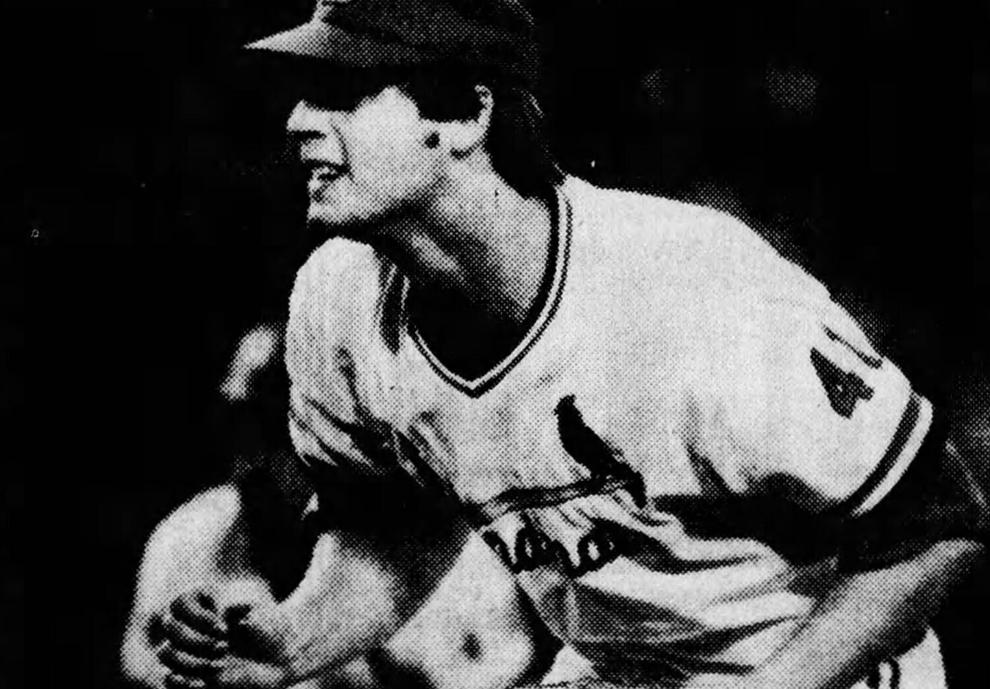 This name might not be familiar but the Pattonville product did something that few, if any other pitchers, did. Beset by shoulder woes, he scored all 14 of his victories with Cardinals in 1979-80. All were complete games.
---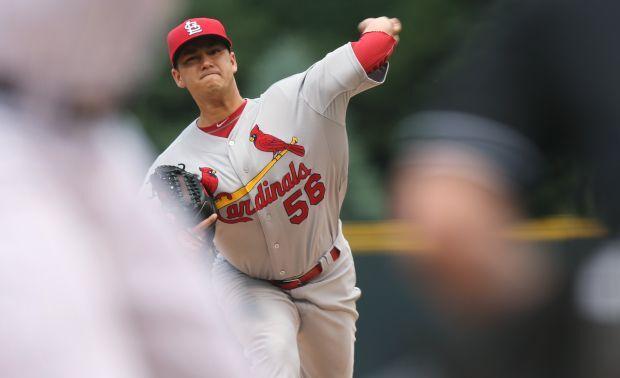 A first rounder out of Gonzaga, Gonzales was a key bullpenner in the 2014 playoff run. Traded to Seattle for Tyler O'Neill, Gonzales has had three double-figure wins seasons for Mariners, including 16 in 2019.
---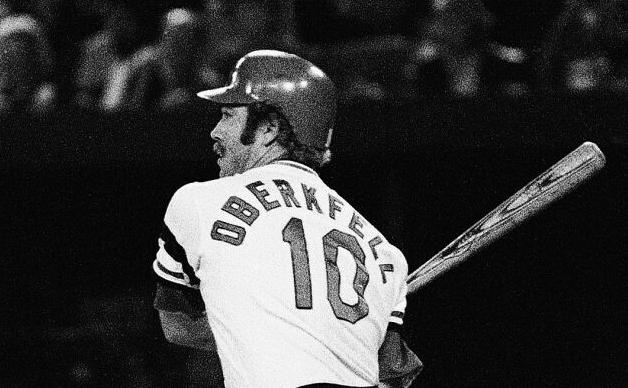 Part of perhaps the best Cardinals' defensive infield, Obie, signed as a free agent, batted .298 in eight seasons here, mostly as a third baseman. Played in Series with Cardinals and Giants and totaled 16 seasons in majors.
---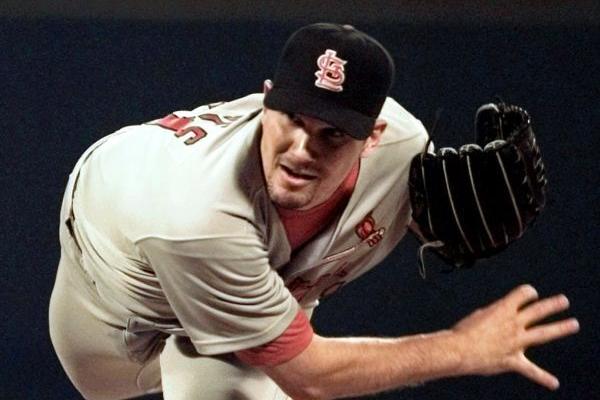 One of the brightest Cardinals' pitching prospects in all this time, this 1993 first-rounder won 22 games in his first two full seasons as a Cardinals starter. But plagued by shoulder issues, he won only six games after 1996.
---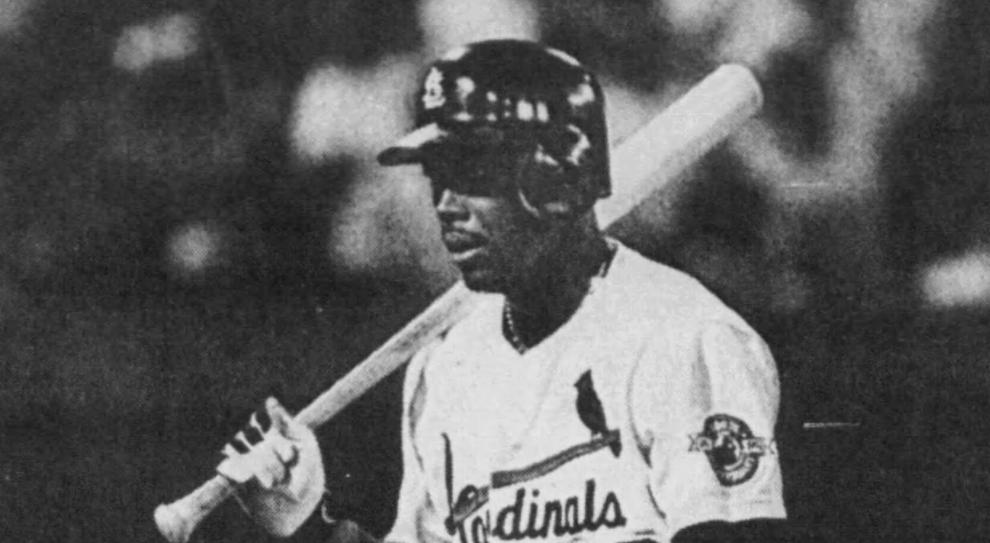 A free agent signing, University City product batted .282 in six seasons with Cardinals. He then went to the Mets, where he had a monster 1996 year with 30 homers, 117 RBIs and a .317 average.
---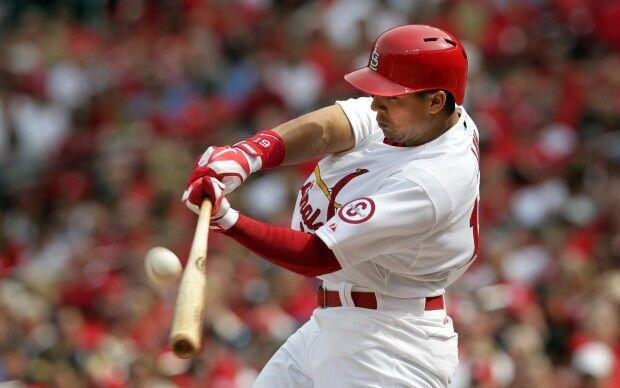 Jay was a steady presence on five consecutive Cardinals' playoff (two World Series) teams from 2011-15. He averaged .287 in six seasons with Cardinals and was also in playoffs with Cubs.
---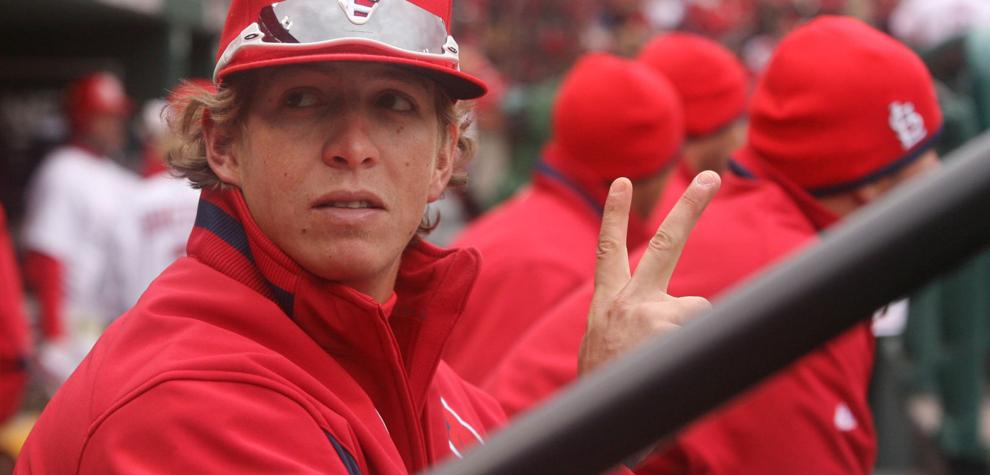 A No. 1 pick by the Cardinals, Rasmus hit 23 homers for Cardinals in 2010. He never achieved his potential here but had .423 average and 1.610 OPS in nine postseason games with Houston. He retired at 31.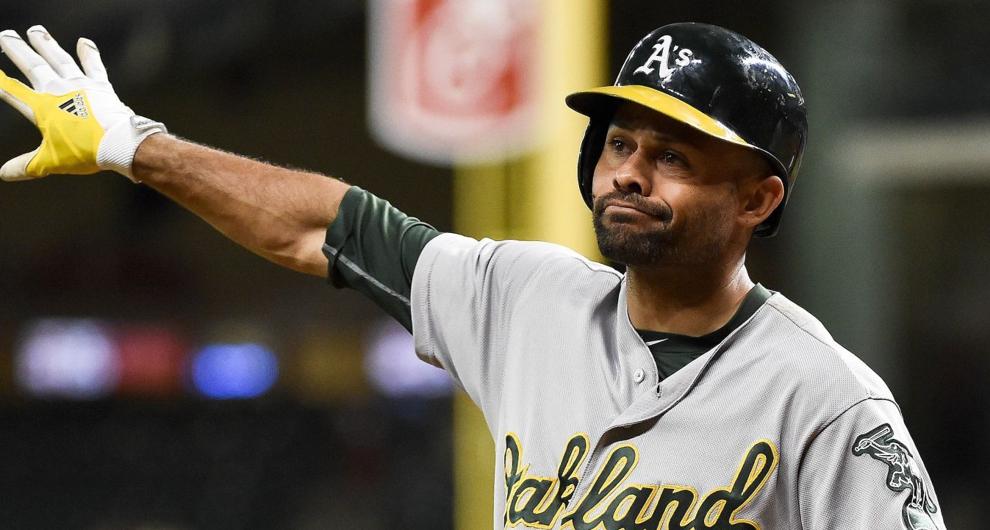 Never got a chance at major-league level here but played 15 seasons in American League with more than 1,500 hits and 300 steals. Played in World Series with Red Sox and Indians.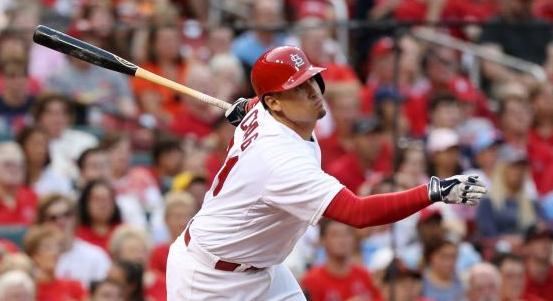 Were it not for a serious foot injury Craig suffered late in 2013, he might have had a lengthy career. As it was, he made a mark in 2012-13 by hitting .400 and then .454 with men in scoring position. Hit three homers in 2011 Series.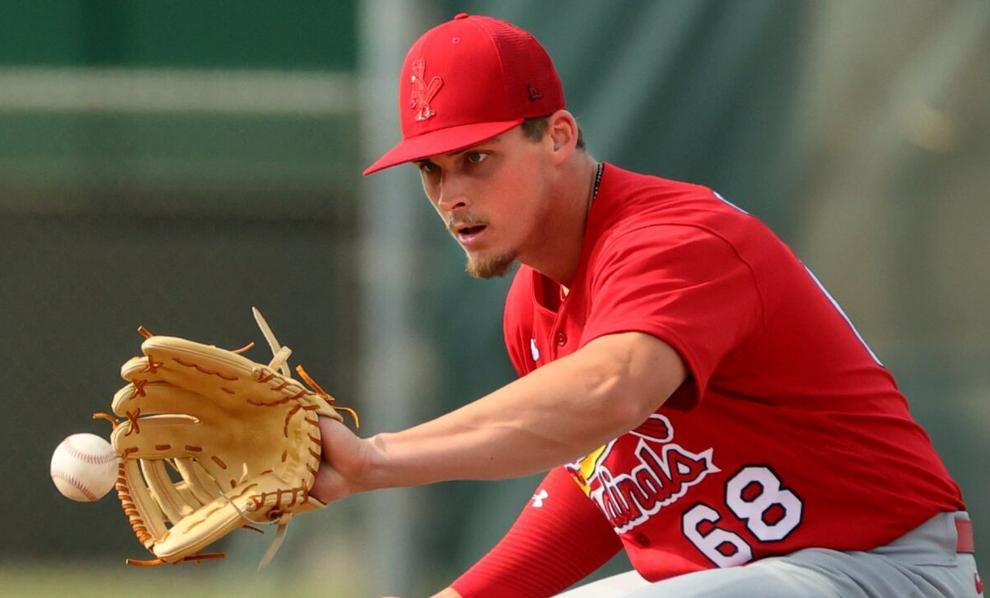 The team's top pick in 2018 took his biggest step in 2021, totaling 25 home runs at Springfield and Memphis. He already appears to be a lineup fixture this season and the projection for him is as a top-of-the-lineup hitter who may have to play several positions for a while.
Another first-round choice, Wong was a two-time Gold Glove winner in 2019-20 before signing with Milwaukee. His best Cardinals season was 2019 when he hit .285 with a .361 OBP, 11 homers and 24 steals.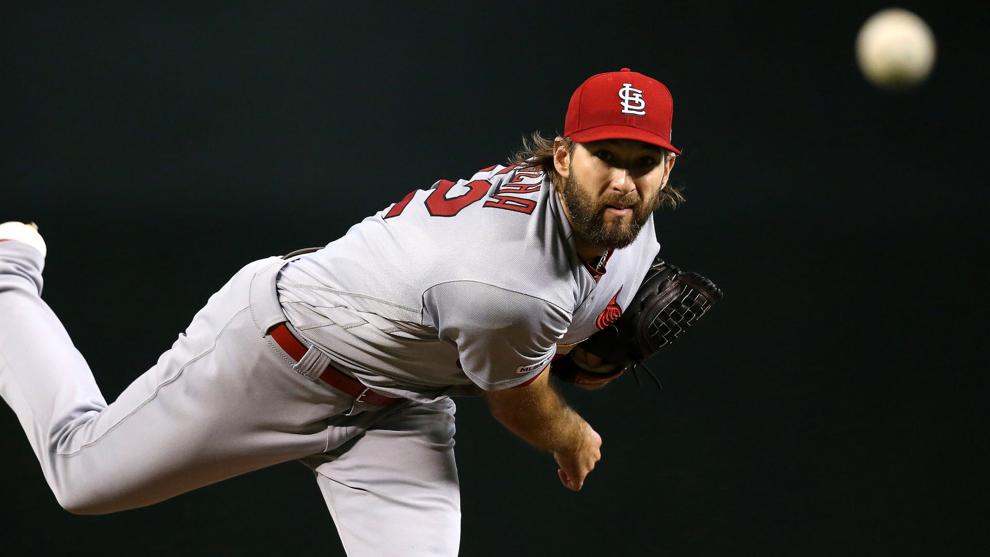 A first-rounder in 2012, Wacha was 59-39 in seven seasons with the Cardinals and 4-1 in the 2013 postseason when he was the MVP of the NLCS. He took no-hitters into the ninth in 2013 and 2018.  Now with Boston.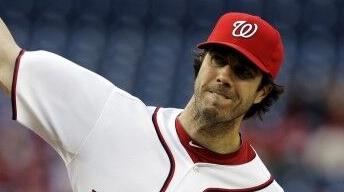 A second-round choice in 2001, Haren won 153 games in the majors but only six for the Cardinals before being traded to Oakland for Mark Mulder. Haren had 11 double-figure win seasons and was a three-time All-Star.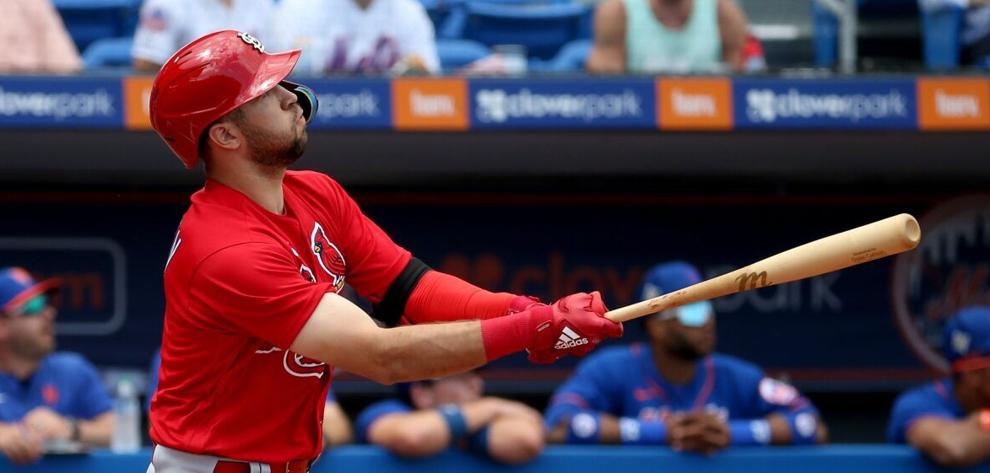 Carlson, a first-rounder in 2016, is a rising star. He is the club's top switch-hitting prospect since Dmitri Young was a first-rounder in 1991 and then traded to Cincinnati when Mark McGwire came.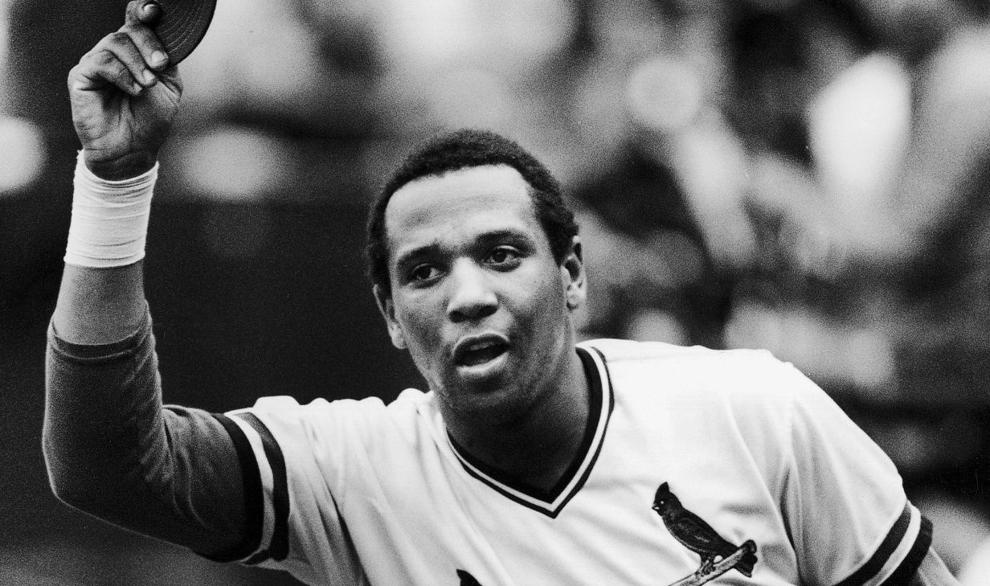 A batting champion and a Most Valuable Player in 1991. But that was with Atlanta, a year after Pendleton left as a free agent. His game-tying homer in the ninth against the Mets in 1987 was Pendleton's crowning blow here.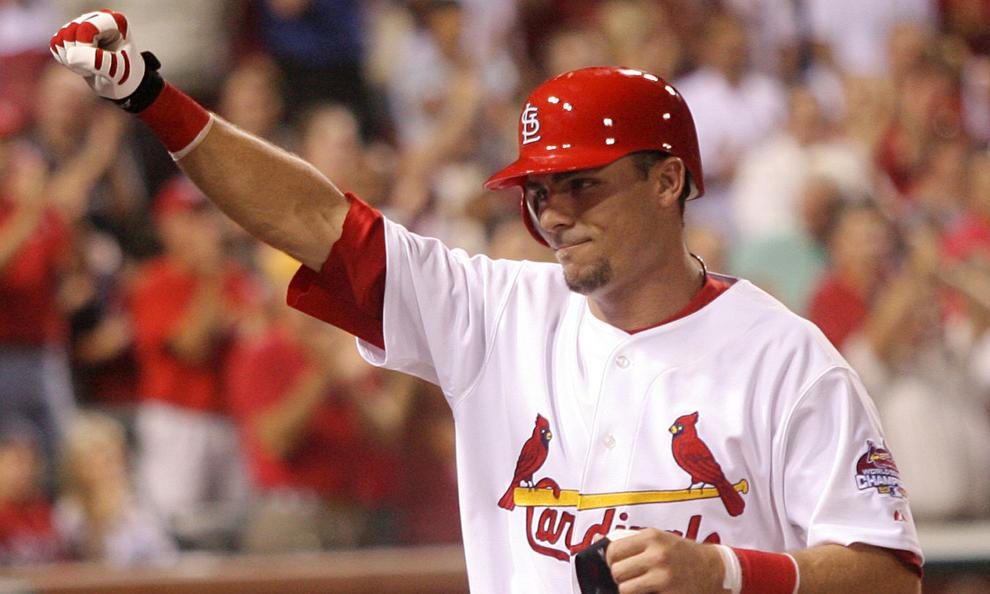 Ankiel was among the top pitching prospects in the country as a prep and won 11 games for the 2000 division champs. He burned out as a pitcher but returned as an outfielder, hitting 25 homers in 2008.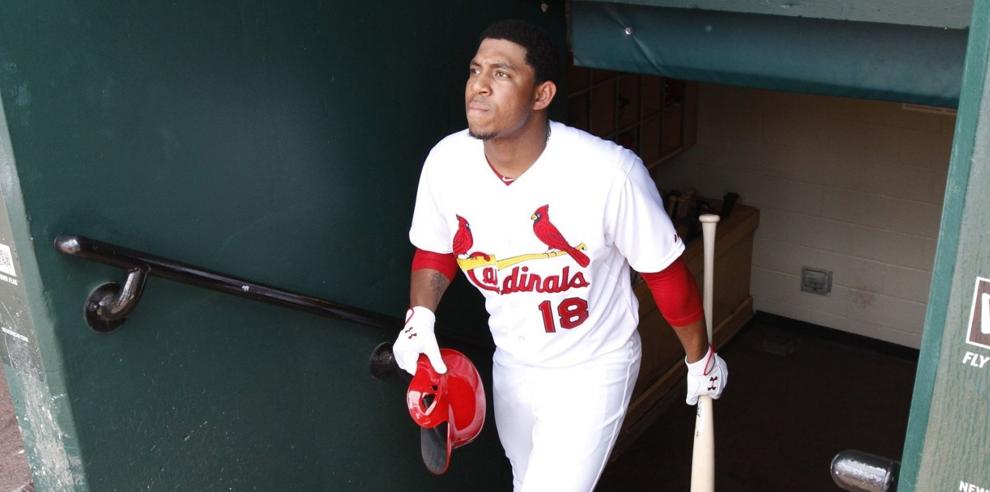 One of the most hyped talents to emerge from the Cardinals' system, Taveras played just half a season in the majors in 2014, hitting .239 with three homers.  He  was dead at 22 after a car accident that off-season.
24—Trevor Rosenthal, RHP.
A shortstop in college, Rosenthal, a 21st round pick, became a pitcher in the minors and then a closer in the majors. He holds the club's season record for saves at 48 in 2015.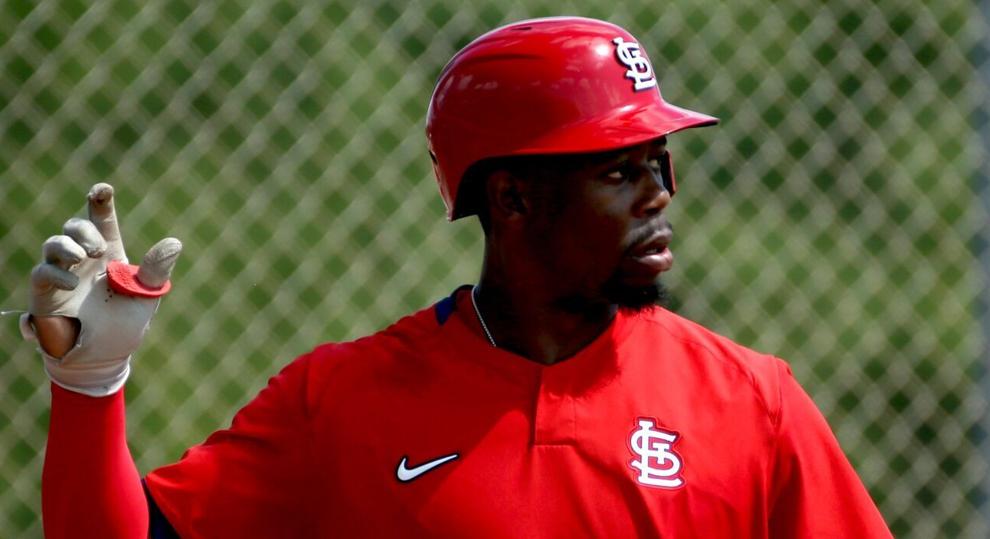 A stretch here, to be sure, but people are talking about this 2020 first rounder in Pujols terms. He had a .936 OPS for his first pro season at Class A Palm Beach and Peoria. He is 19.
Flaherty, a first-round choice, ran into injury roadblocks in 2021 as he was having an All-Star season. He has the potential to be the Cardinals' top home-grown starter since Morris.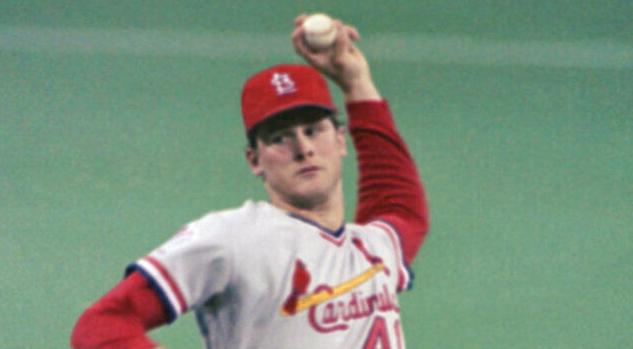 Another No. 1 pick, Magrane started two games in 1987 World Series, won an ERA title in 1988 and had an 18-win season in 1989. Arm problems kept him from achieving greatness.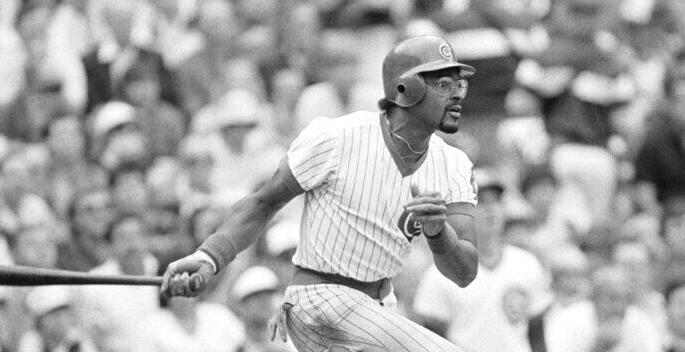 With Keith Hernandez here, Durham became the bait to get Bruce Sutter from Cubs in 1980 deal. Durham, a former first rounder, had five seasons of 20 or more homers for the Cubs, made two All-Star teams and finished here in 1989.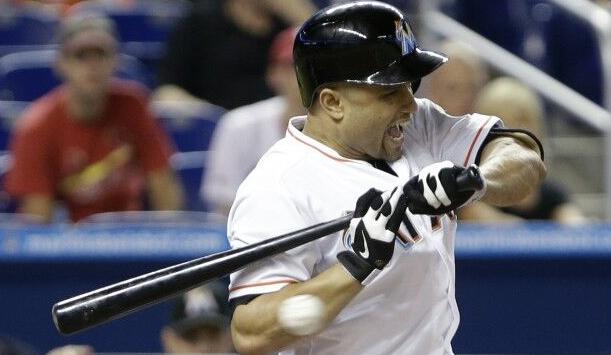 Polanco had more than 2,100 hits for his 16-season career, most of it spent outside St. Louis. He averaged .296 in five seasons here and .297 for his career while winning three Gold Gloves for Tigers and Phillies.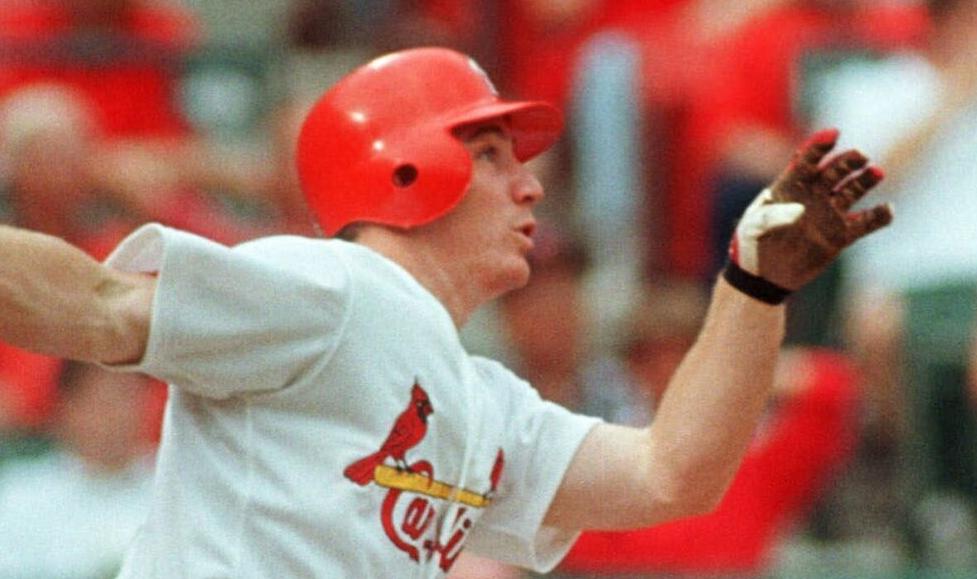 Nobody much noticed amid McGwire Mania in 1998 that Drew broke in in Musial fashion with a 1.476 OPS and .417 average for his first 14 games. Injuries and lack of burning desire to be great rendered him only good.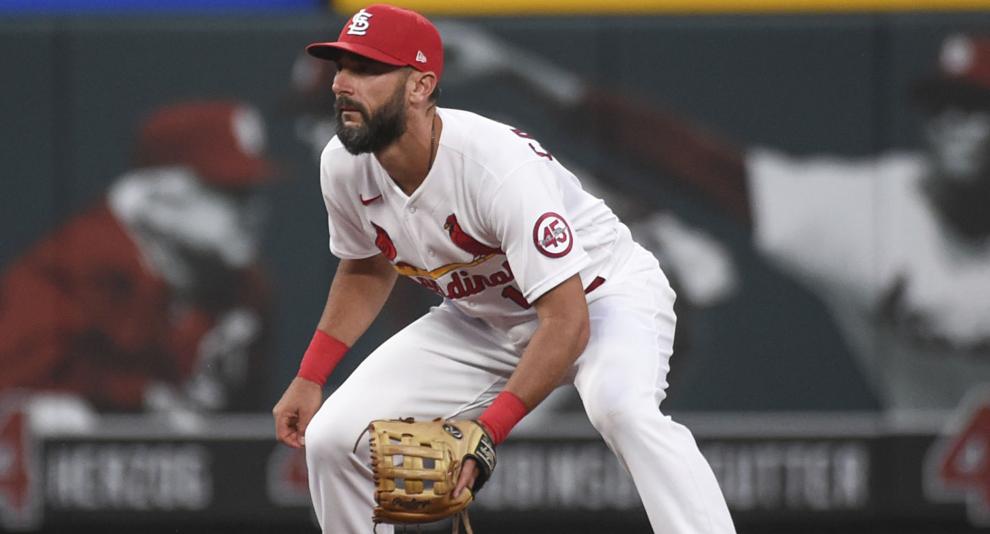 Another 13th rounder and a starter at three different infield positions, he was here for 11 seasons, hitting .469 with a 1.163 OPS with bases loaded. Finished in top 12 of MVP voting three times.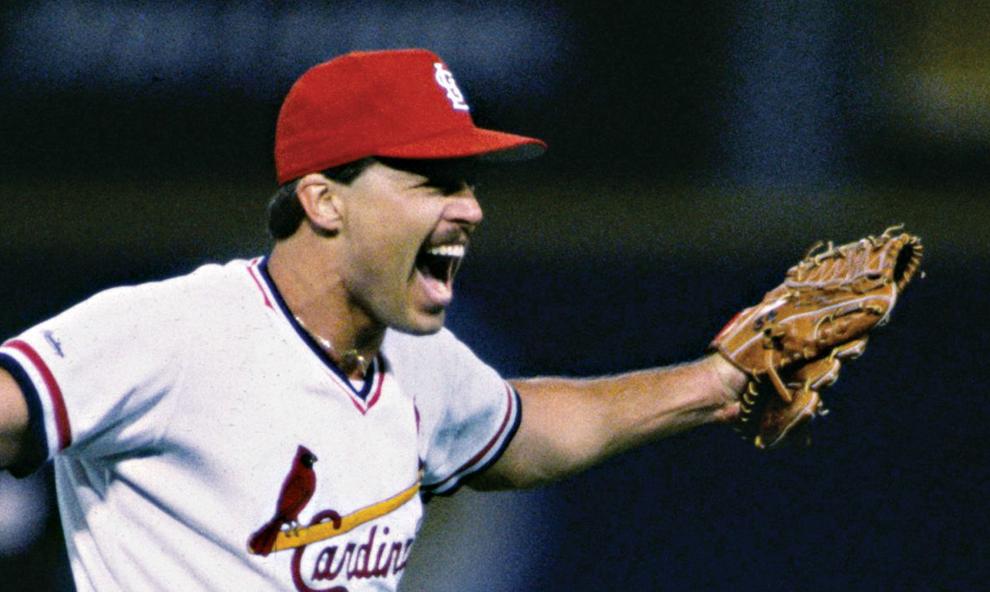 A 13th round selection in 1981 draft, Cox became one of Cardinals' best big-game pitchers. He would have won Game 6 of the 1985 World Series but for an unfortunate umpiring snafu.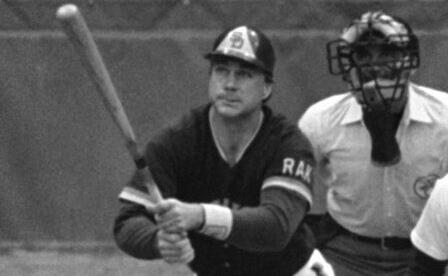 He became a star with Padres after being traded there in 1980 marquee deal for Rollie Fingers, who was a Cardinal for two days. Kennedy was an All-Star in both leagues—with San Diego and Baltimore.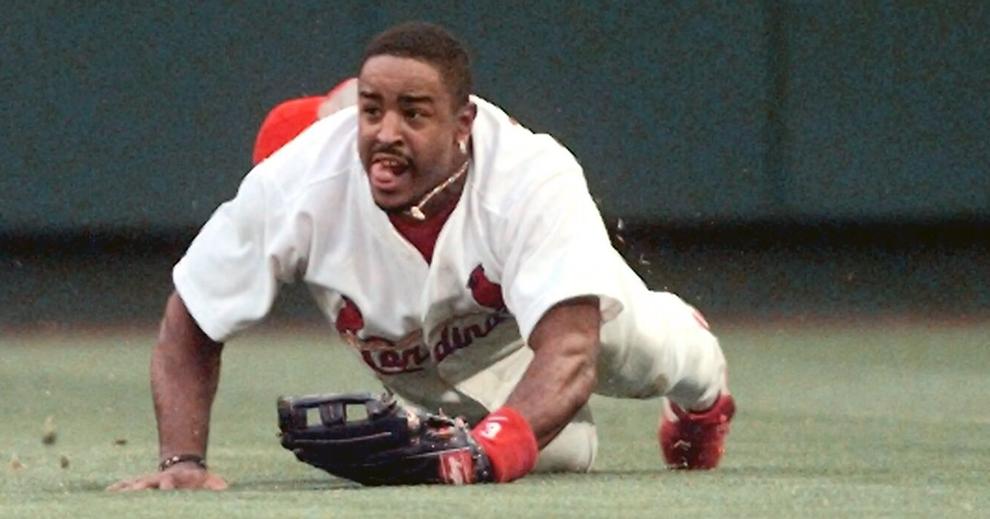 A former safety for the Atlanta Falcons, Jordan probably was the best multi-sport star developed in the system. Jordan's best year here was in 1998 when he hit .316 with 25 homers and 91 RBIs.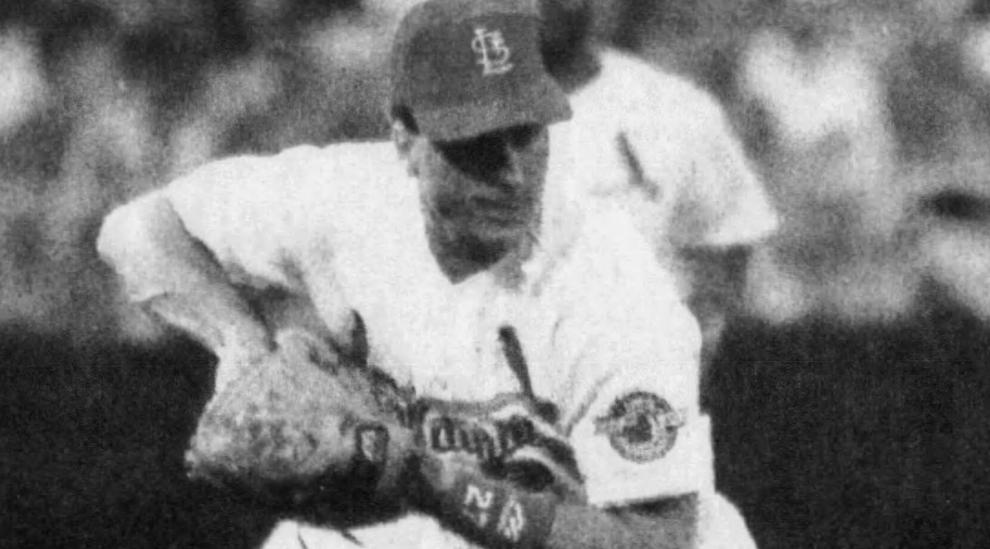 Either a lot of teams liked him or a lot or teams didn't. He played for 10 teams (Mets twice) after leaving St. Louis. Finished with more than 2,000 hits, 250 homers and 1,100 RBIs but no All-Star selections.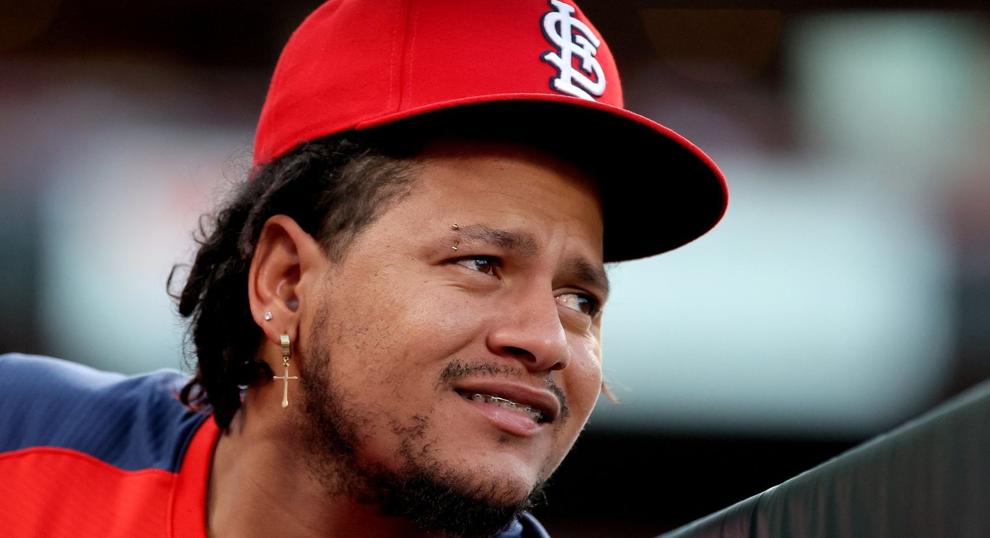 A two-time All-Star when he was healthy, we will be left to wonder just how good the Dominican standout would have been. He might have been a top closer but he didn't want the job.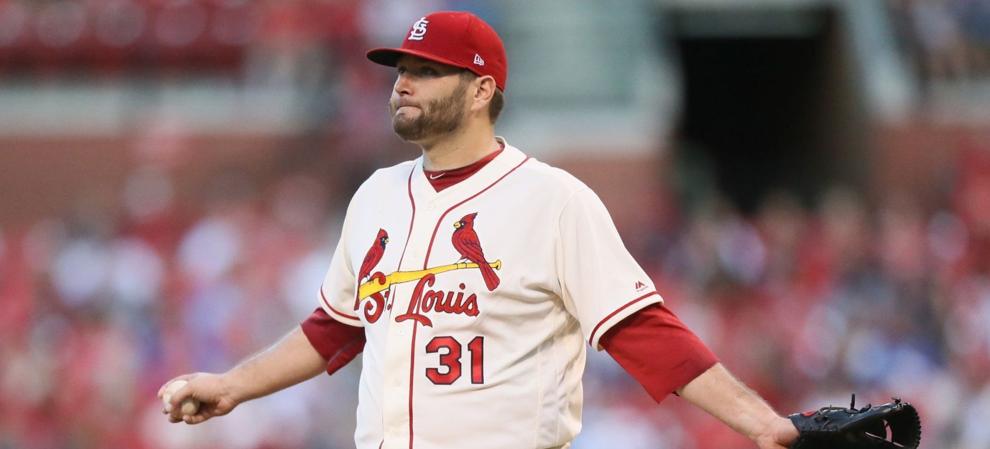 Lynn has turned into one of the most reliable and best pitchers in the American League after leaving the Cardinals, for whom he averaged 14 wins a season for his five years as a starter.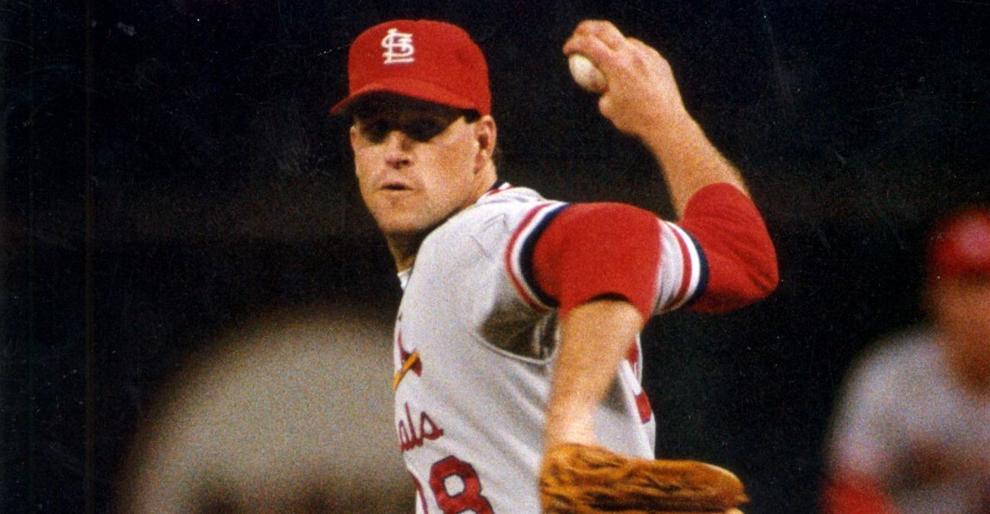 He has the pictorial evidence that Jorge Orta was out at first base. He would have been the rookie closer for the 1985 world champs. As it was, he was Rookie of the Year in 1986.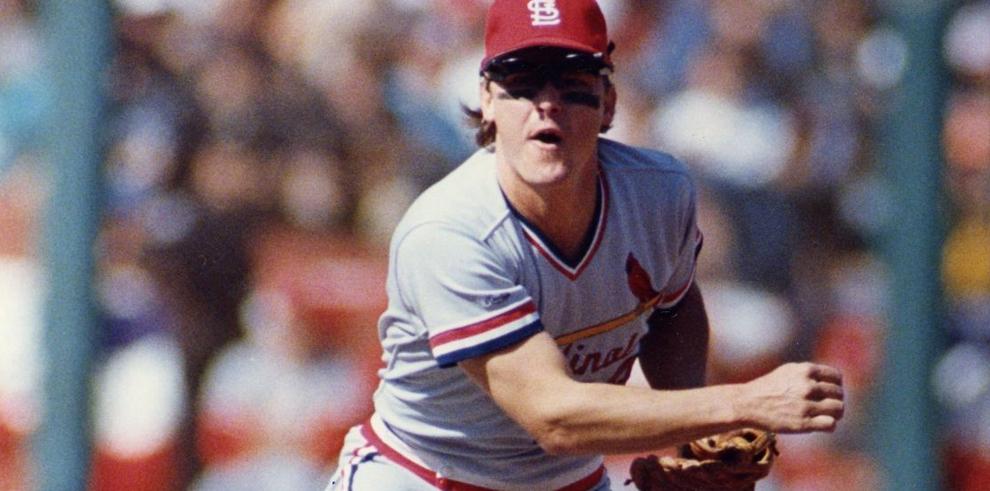 An undrafted free agent signing in 1974, Herr was the Cardinals' second baseman for nearly a decade, playing on three pennant winners and driving in 110 runs on just eight homers in 1985. A Cardinals Hall of Famer.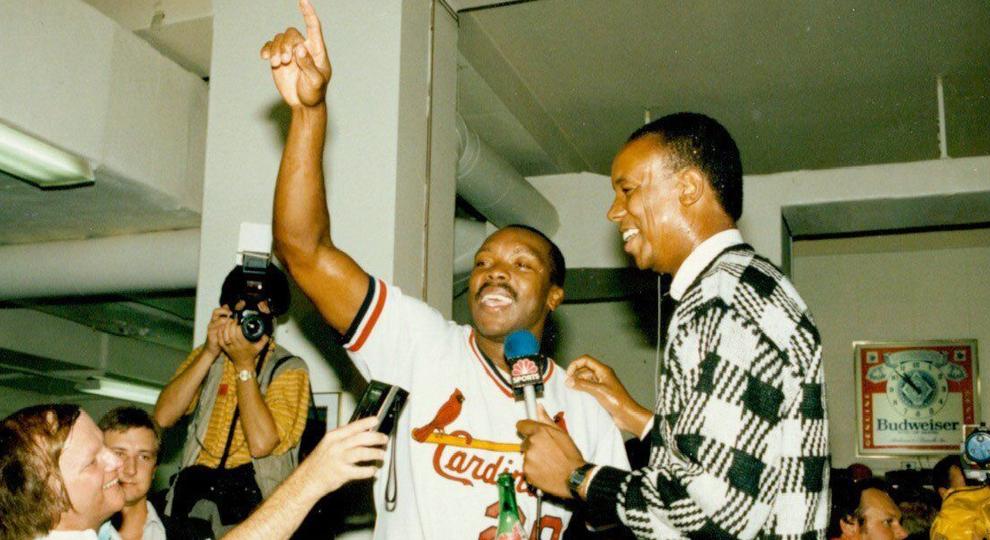 Stole more than 100 bases three times and won six stolen base titles in his six seasons here. Former 10th rounder who is in Cardinals Hall of Fame was 1985 Rookie of the Year.
Not many pitchers win 100 or more games with the same club any longer  but Morris was 101-62 while he was here. Only Adam Wainwright and Bob Forsch have won more games for the Cardinals since Bob Gibson.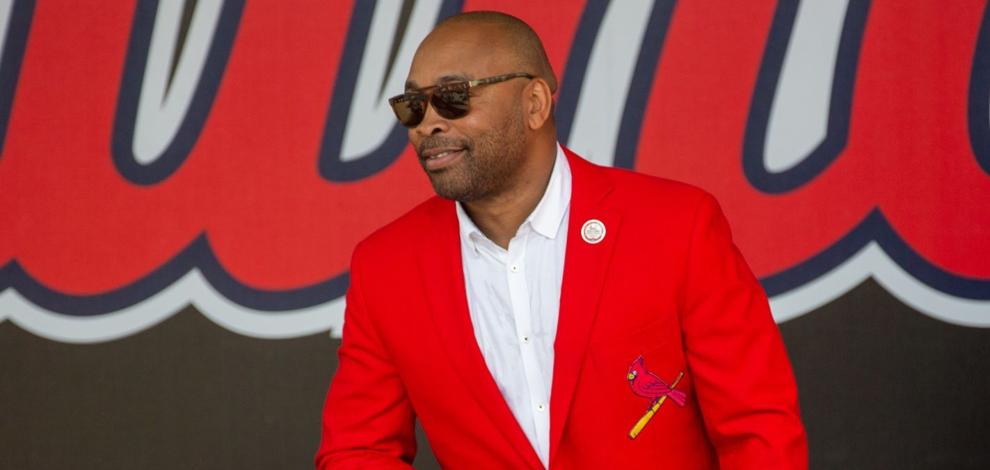 The top home-run hitter at Busch Stadium II and an underrated defender, Lankford was the club's top player through the decade of the '90s and is in the Cardinals Hall of Fame.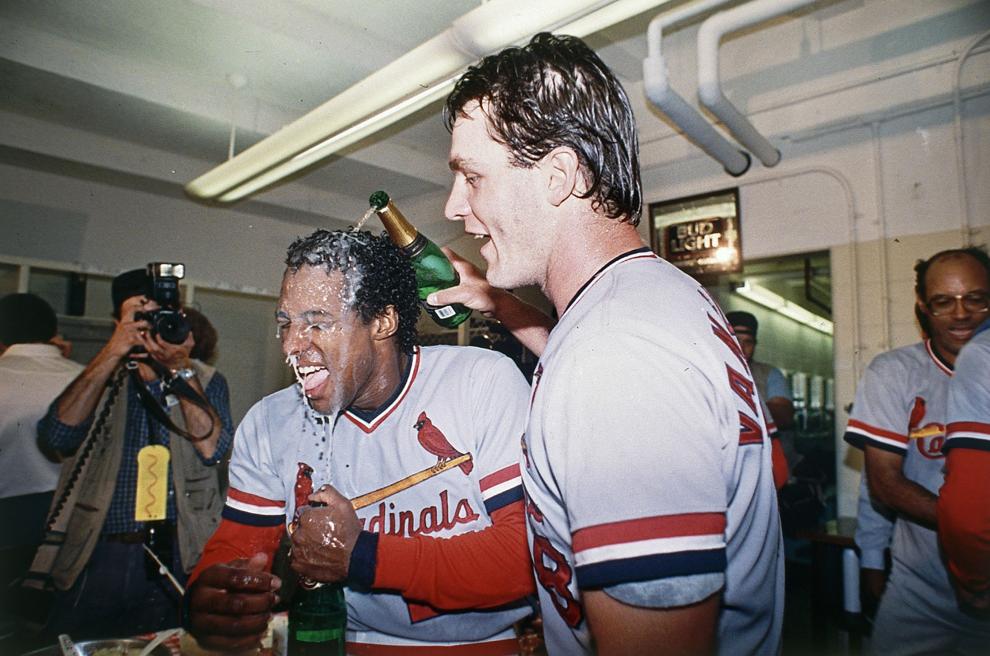 He had nearly all his big seasons with Pittsburgh but, as far as players coming out of the Cardinals' system, he was one of the rare five-tool performers. A three-time All-Star and five-time Gold Glover with Pirates.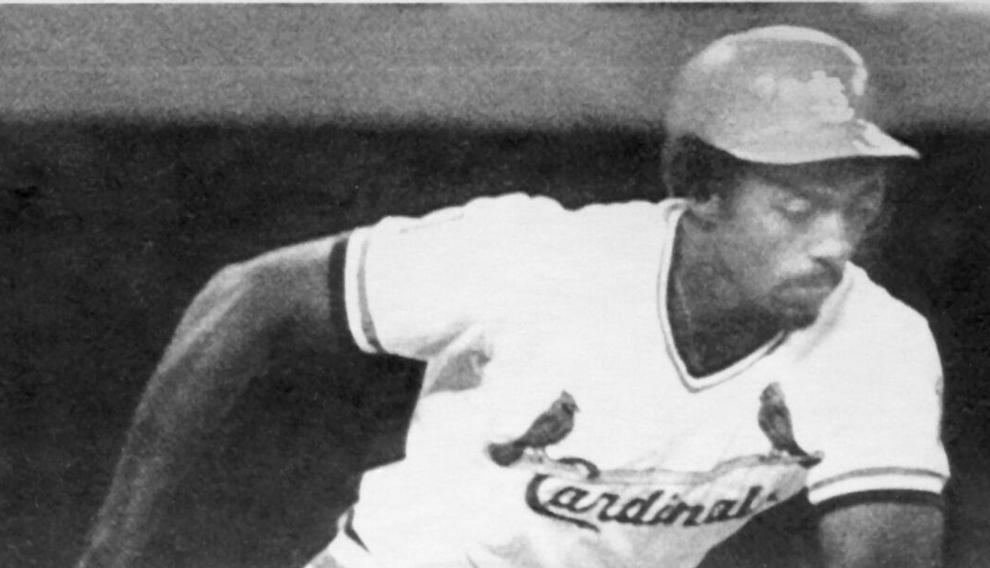 A controversial figure while he was here, Templeton was the first hitter to have 100 hits from both sides of the plate and had skills about which others only dream. He was good enough for the club to get Ozzie Smith for him.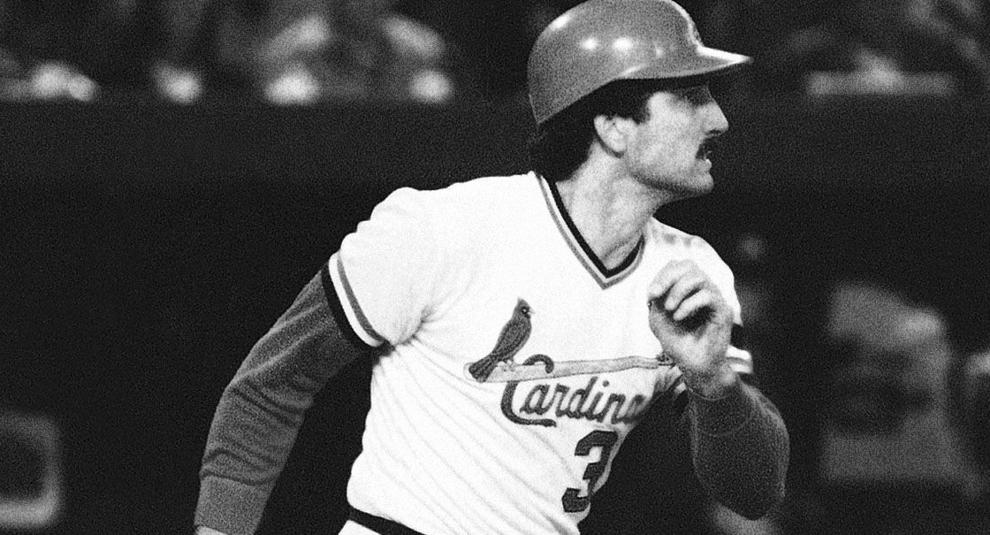 A 42nd round pick in 1973, he won a batting title, shared an MVP Award and no one was better defensively at his position. Was dealt to Mets but still is in Cardinals' Hall of Fame.
He didn't learn to hit until he had been in the majors for a few years but he has put together five .300 seasons, is one of the top defensive catchers ever and also should be in the Hall. He's played in four World Series.
A chunky 13th round pick in 1999 out of a Kansas City junior college is either the best Cardinals hitter of all time or the second best. A sure Hall of Famer six years or so from now.  Which hat will he wear? There should be no doubt.
Rick Hummel
@cmshhummel on Twitter